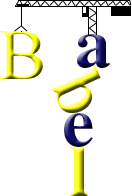 ኦሪት ዝፍጥረት 11:1-9
The Tower of Babel (Genesis 11: 1-9)
ትግርኛ (Tigrinya)
ሕዝቢ ዓለም ብምሉኡ፥ ሓደ ቛንቛን ሓደ ዝረባን ነበሮ።
ንምብራቕ ኣቢሎም ምስ ተጓዕዙ፥ ኣብ ምድሪ ስናኦር ጐልጐል ረኸቡ፥ ኣብኡ ድማ ተቐመጡ።
ንሓድሕዶም ድማ "ክላ ግዳ፥ ጡብ ንሥራሕ እሞ ብሕዊ ንብስሎ" ተባሃሃሉ። ኣብ ክንዲ ብእምኒ ብጡብ፥ ኣብ ክንዲ ብጸብሪ ድማ ብቕጥራን ገይሮም ሠርሑ።
ሽዑ ኽኣ "ክላ ግዳ፥ ኣብ ልዕሊ ዅላ ምድሪ ምእንቲ ፋሕ ከይንብልሲ፥ ሰማይ ዚጥንቍር ግምቢ ዘለዋ ኸተማ ንሥራሕ፥ ስምና ኽኣ ነጸውዕ" በሉ።
እግዚአብሔር ድማ ነቲ ደቂ ሰብ ዚሠር ሕዎ ዝነበሩ ኸተማን ግምብን ኪርኢ ወረደ።
እግዚአብሔር ድማ "እንሆ፥ እዚኣቶም ሓደ ቛንቋ ዚዛረቡ ሓደ ሕዝቢ እዮም። መጀመርታ ኺገብርዎ ዝኸኣሉ እዚ እዩ። ድኀሪ ደጊም ነቲ ኺገብርዎ ዚህቅኑ ካብ ምፍጻም ኪኽልክሎም ዚኽእል ገለ እኳ የልቦን።
እምበኣር ንሓድሕ ዶም ምእንቲ ኸይሰማምዑ፥ ንዑ ንውረድ እም ቋንቋኦም ንደባልቕ" በለ።
እግዚአብሔር ድማ ኻብኡ ናብ ኵላ ምድሪ ፋሕ ኣበሎም፥ ምሥራሕ እታ ኸተማ ድማ ገደፉ።
እግዚአብሔር ቋንቋ ሕዝቢ ዓለም ኣብኣ ፋሕፋሕ ስለዘበለ፥ እታ ኸተማ ባቢሎን ተባህለት። ካብእ ኸአ እግዚአብሔር ናብ ኵላ ምድሪ በተኖም
You can also see the above text as an image.
Transliteration
Hzbi ˋalem bmluu, Hade QwanQwan Hade zreban nebero.
nmbraQ abilom ms tegwaˋzu, ab mdri snaar gwolgwol rekhebu, abu dma tQemeTu.
nHadHdom dma "kla godo, Tub nsraH əmo bHwi nbslo" tebahahalu. ab kndi bəmni bTub, ab kndi bSbri duma bQTran geyrom serHu.
shˋu kha "kla godi, ab lˋli khwala mduri mənti fuH keynblsi, semay ziTnqwer gmbi zelewe khetema nsaraH, smna kha neSewˋ" belu.
əgziabiheir dma neti deqi seb ziser Hwo znberu khereman gombn kiri werede.
əgziabiheir dma "ənho, əziatom Hade Qwanqwa zizarbu Hade Hzbi əyom. mejemerta khigbrwo zkhalu əzi əyu. drere degim neti khigebrwo zihqnu kab mfSam kikhlklom zikhəl gele əkwa yelbon.
əmbear nHadH dom mənti kheysmamˋu, nˋu nwred əm qwanqwaom ndebalQ" bele.
əgziabiheir dma khabu nab kwela mdri fuH abelom, msraH əta ketma dma gefefa.
əgziabiheir qwanqwa Hzbi ˋlem aba fuHfuH slezebele, əta khetema babilon tebahlet. kabə əgziabiheir nab kwel mdri betenom.
Information about Tigrinya | Phrases | Numbers
Tower of Babel in Semitic languages
Amharic, Arabic, Aramaic, Ge'ez, Hebrew, Maltese, Syriac, Tigrinya
Other Tower of Babel translations
By language | By language family
[top]
---

Why not share this page:

If you like this site and find it useful, you can support it by making a donation via PayPal or Patreon, or by contributing in other ways. Omniglot is how I make my living.
Note: all links on this site to Amazon.com
, Amazon.co.uk
and Amazon.fr
are affiliate links. This means I earn a commission if you click on any of them and buy something. So by clicking on these links you can help to support this site.
Get a 30-day Free Trial of Amazon Prime (UK)
If you're looking for home or car insurance in the UK, why not try Policy Expert?
[top]