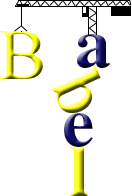 A Torre de Babel (Chenesis 11: 1-9)
Aragonés (Aragonese)
Aragonés unificado
Alabegada toda la tierra teneba només que una luenga y as mesmas parolas.
Y cuan os ombres emigraron dende l'orién trobaron a plana d'o país de Sinar, y se i establezieron.
Y se dizieron unos a atros: "Beniz, faigamos ladrillos y crememos-los con fuego." Asinas empezipión a emplegar o ladrillo en cuenta de piedra y o gudrón en cuenta de masa.
Y dizieron: "Beniz, construyiremos una ziudá y una torre que toque o zielo con a suya punta. Faigamo-nos un nombre ta si somos separaus por toda la tierra."
Y o Siñor baixó ta beyer a ziudá y a torre que construyiban os ombres.
Y o Siñor dizió: "Aquí a chen ye toda una y charra una mesma luenga. Isto ye lo que han empezipiau a fer y no reblarán pas en tot lo que quieran fer.
Imos pues, baixemos y emboliquemos a suya fabla, ta que dengún pueda entender lo que dize o suyo compañero"
Asinas o Siñor los espardió dende allí por toda la tierra, y dixaron de construyir a ziudá.
Por isto, a ixa ziudá le dizieron Babel, porque allí o Siñor embolicó a luenga de toda la tierra, y dende allí los espardió por toda la faz d'a tierra.
Translated into Aragonese by Luis de la Calle
Aragonés (Ribagorzano)
En aquels tiempos, la tierra teniba una sola llengua y uns mesmos vocablos.
Y cuan es homes van sallí dende l'orién van trobá una pllana al país de Sinaí, y se i van establecé.
Y se van dí uns a atros: "Farem uns tochos y los ferem cocé al fuego." Y van fé serví el tocho en cuenta de piedra, y el gudrón en cuenta de masa.
Y diban: "¡Au!, que construirem una ciudá y una torre que con la suya punta toque el cielo, y mos farem un nombre per si mos esparcím per toda la tierra.
Y el Siñor va baixá a veyé la ciudá y la torre que los fillos d'es homes estaban edificán.
Y el Siñor va dí: "El pueblo ye tot uno y toz tienen una mesma llengua; y ara ya han encomenzau, y no reblarán pas en ixo que pensan fé.
¡Vienga!, baixarem ara y trafucarem la suya parla, ta que no pueda entender-se denguno."
Asinas el Siñor los va esparcí dende allá per toda la tierra, y van dixá de construí la ciudá.
Per ixo le van dí Babel, perque allá el Siñor va trafucá la llengua de toda la tierra, y d'allá los va esparcí per toda la faz de la tierra.
Translated into Aragonese by Xavier Tomás Arias of the Sociedat de Lingüistica Aragonesa
Information about Aragonese | Phrases | Numbers | Tower of Babel
Tower of Babel in Romance languages
Aragonese, Aromanian, Asturian, Catalan, Corsican, French, Galician, Italian, Ladino, Latin, Portuguese, Romanian, Romansh, Sicilian, Spanish, Valencian
Other Tower of Babel translations
By language | By language family
---
If you need to type in many different languages, the Q International Keyboard can help. It enables you to type almost any language that uses the Latin, Cyrillic or Greek alphabets, and is free.
If you like this site and find it useful, you can support it by making a donation via PayPal or Patreon, or by contributing in other ways. Omniglot is how I make my living.
Note: all links on this site to Amazon.com
, Amazon.co.uk
and Amazon.fr
are affiliate links. This means I earn a commission if you click on any of them and buy something. So by clicking on these links you can help to support this site.