Sutton SignWriting
Sutton SignWriting, or SignWriting, was created in 1974 by Valerie Sutton. It uses visual symbols to represent the handshapes, movements, and facial expressions of signed languages. SignWriting is based on Sutton DanceWriting, a notation system for representing dance movements which Valerie Sutton developed in 1972.
SignWriting is a "movement-writing-alphabet", which can be used to write any signed language. It is the written form of 27 Sign Languages. The SignWriting alphabet writes the way the body looks, when people sign.
SignWriting can be used to write American Sign Language (ASL), British Sign Language (BSL) or any other variety of sign language. There are newspapers, magazines, dictionaries, and literature written in SignWriting. It is also used to teach signs and signed language grammar to novice signers, and can be used to teach skilled signers other subjects, such as maths, history or English.
A selection of basic ASL SignWriting signs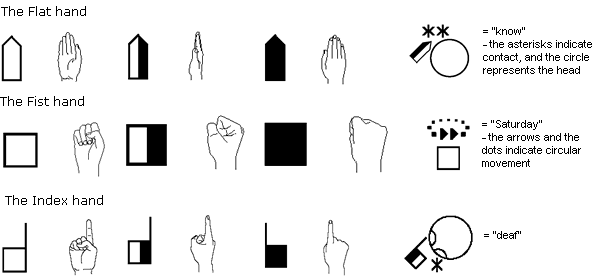 Sample text in ASL SignWriting (from Goldilocks and the Three Bears)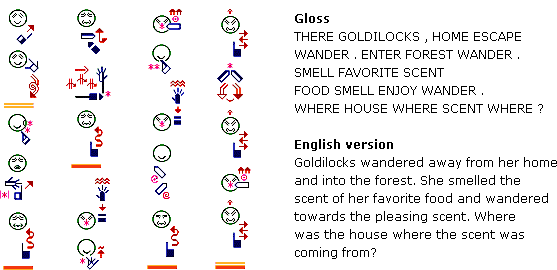 Gloss and English version provided by Marq Thompson
Links
Sutton SignWriting - tutorials, dictionaries, fonts and other resources
http://www.signwriting.com/
SignWriter - a Java application for writing in SignWriting
http://www.signwriter.org/
Poetry, stories, songs, parts of the Bible and other written material in SignWriting
http://www.cyberjer.com/
The SignWriting Journal
http://sw-journal.ucpel.tche.br/
GebärdenSchrift in Deutschland (SignWriting in Germany)
http://www.gebaerdenschrift.de/
Learn American Sign Language with Rocket Languages
Other notation systems
Blissymbolics, Braille, Graffiti, Moon, Shorthand, Solresol, Sutton SignWriting