Blissymbolics
Origin
Blissymbolics were developed by Charles K. Bliss (1897-1985). Bliss originally called his invention "Semantography" and intended for it to be used as a universal written language which would enable speakers of different languages to communicate with one another.
Since 1971 Blissymbolics have been used mainly as a communication aid for people with communication, language and learning difficulties. Such people have limited or no ability to use ordinary spoken and/or written language but manage to learn Blissymbolics.
Notable features
Blissymbolics consists of over 2,000 basic symbols which can be combined together to create a huge variety of new symbols.
The symbols can be formed into sentences and their order is based on English word order
The symbols are made up of simple shapes designed to be easy to write.
Blissymbolics are used in over 33 countries.
A selection of Blissymbolics symbols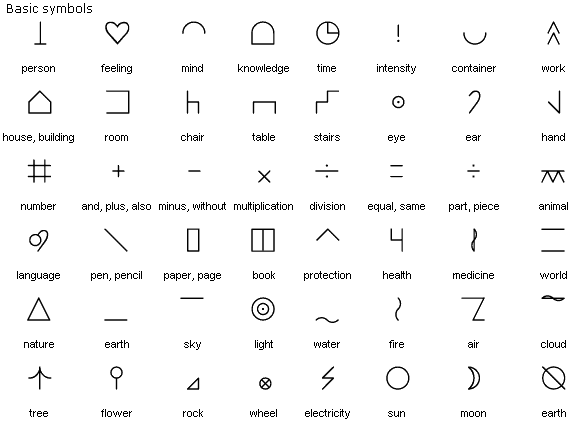 Links
Information about Blissymbolics
http://en.wikipedia.org/wiki/Blissymbols
http://blissym.com/
http://www.symbols.net/blissymbolics/
http://www.blissymbols.co.uk
Blissymbolics Communication International - a charitable organisation which promotes and supports the use of Blissymbolics: http://www.blissymbolics.org
Other notation systems
Blissymbolics, Braille, Graffiti, Moon, Shorthand, Solresol, Sutton SignWriting