Nisga'a (Nisg̱a'a)
Nisga'a is a Tsimshianic language spoken by the Nisga'a people in northwestern British Columbia in Canada. In 2014 there were 2,818 speakers according to the First Peoples' Cultural Council.
Nisga'a was first documented by James Benjamin McCullagh, an Anglican missionary, in the 1890s. He translated parts of the Bible and the Book of Common Prayer into Nisga'a. He also produced a primer for students.
Nisga'a alphabet and pronunciation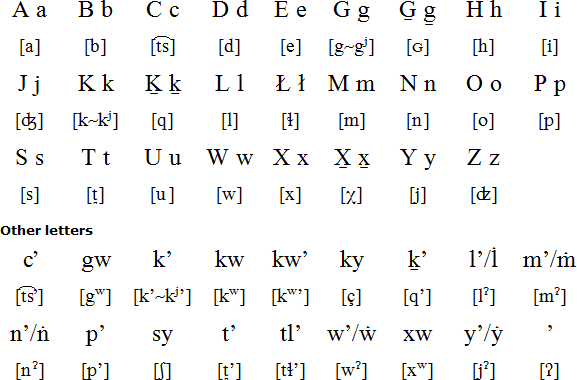 Download Nisga'a alphabet charts in PDF or Excel
Details of the Nisga'a alphabet provided by Wolfram Siegel
Sample text
Aam wilaa wilsim̓a? Luu-am'aamhl g̱ag̱oodim wil misim silg̱awilim̓ wil dip sa'aluut'aahl lip algax̱am̓, wil hlaa yukwhl dim kw'ootkwt. Ḵ'oom̓ax̱gum̓ midim sim hooxt dim ii misim gitdixyugwit.
Source: http://www.firstvoices.com/en/Nisgaa/welcome
Links
Information about Nisga'a
https://en.wikipedia.org/wiki/Nisga'a_language
http://www.ethnologue.com/18/language/ncg
http://www.firstvoices.com/en/Nisgaa
Tsimshianic languages
Other languages written with the Latin alphabet