Gitxsan (Gitksanimx̱ / Gitx̱sanimx̱ / Gitx̱senimx̱)
Gitxsan is a Tsimshianic language spoken along the Skeena River in northwestern British Columbia in Canada. In 2014 there were 350 speakers. The name Gitxsan is used for the language and the people who speak it, and it means the "People of the Skeena River" in Gitxsan. The Skeena is 'Ksan in Gitxsan.
Gitxsan is also known as Gitksan, Giatikshan, Gityskyan or Giklsan, and is closely related to Nisga'a.
Gitxsan alphabet and pronunciation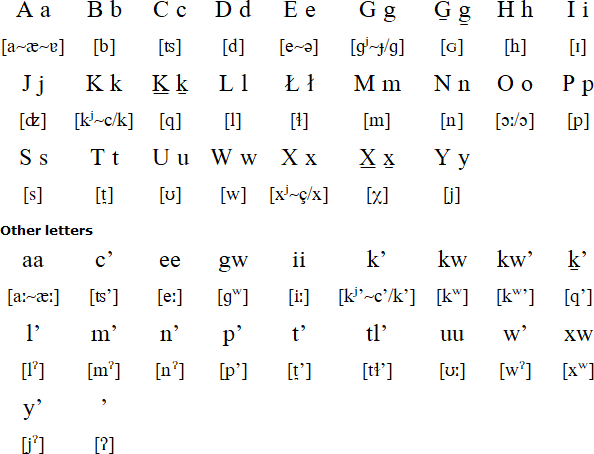 Download an alphabet chart for Gitxsan in PDF or Excel format.
Information about the Gitxsan alphabet provided by Wolfram Siegel
Sample text in Gitxsan
dim yeek'd'm skusiit dapun 'tayu'n
ganhl 'kuba maa'ihl doxut go'os sust
helt maa'i 'tahl'm gii sint
suii ginam'ii hla gatsuut da'whl
amhl ga'bihl menit dim yeekt'm 'tayu'n
Source: http://learngitxsan.com/written-language.html
Links
Information about Gitxsan
https://en.wikipedia.org/wiki/Gitxsan_language
https://fr.wikipedia.org/wiki/Gitksan
http://www.ethnologue.com/18/language/git
http://www.languagegeek.com/tsimshian/gitksan.html
http://www.native-languages.org/nisgaa-gitxsan.htm
Learn Gitxsan
http://learngitxsan.com/
Gitxsan - website of the Gitxsan people
http://www.gitxsan.com/
Tsimshianic languages
Other languages written with the Latin alphabet