Iñupiaq (Inupiatun)
Iñupiaq is an Eskimo-Aleut language spoken in the north and northwest of Alaska by about 10,000 people, who are known as Inupiat. The language is also known as Inupiaq, Inupiak, Inupiat, or Inupiatun.
Iñupiaq was first written by explorers in Alsaka who devised various ways to write the language, none of which were very consistent. A spelling system developed by Moravian missionaries in Greenland and Labrador was eventually adopted for Iñupiaq.
The current system was developed by Roy Ahmaogak, an Iñupiaq Presbyterian minister from Barrow, and Eugene Nida, a member of the Summer Institute of Linguistics, in 1946.
Iñupiaq alphabet (Qaliujaaqpait) and pronunciation
Iñupiaq numerals
Iñupiaq uses a vigesimal counting system and has symbols for the numbers from 0 to 19.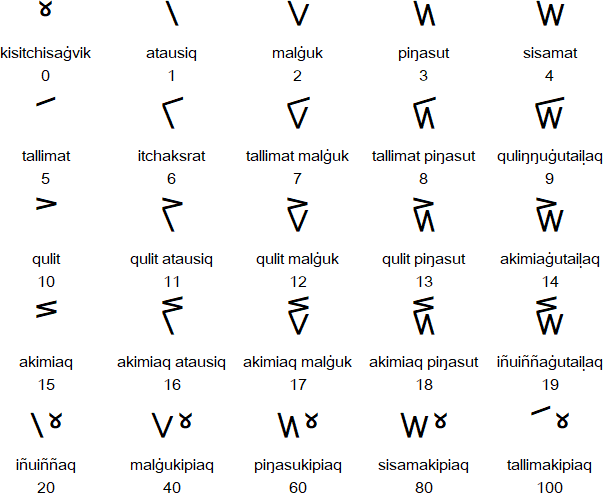 Information about Iñupiaq | Iñupiaq phrases
Links
Information about the Iñupiaq language
http://en.wikipedia.org/wiki/Inupiaq_language
http://www.languagegeek.com/inu/inupiaq.html
http://www.uaf.edu/anlc/languages/i/
Online Iñupiaq dictionary
http://www.alaskool.org/Language/dictionaries/inupiaq/dictionary.htm
Eskimo-Aleut languages
Aleut, Greenlandic, Inuktitut, Iñupiaq, Yup'ik
Other languages written with the Latin alphabet