Chitimacha (Čitimaaša)
Chitimacha is a language isolate that was spoken in southern Louisiana in the USA. It has been proposed that Chitimacha is part of, or related to, the hypothetical Totozoquean language family, which includes the Totonacan and Mixe–Zoque languages.
During the 18th century the Chitimacha started speaking French rather than their native language, after the French arrived in Louisiana in 1699. Over the next centuries the number of Chitimacha speakers diminished. By the beginning of the 20th century, Chitimacha parents had stopped passing the language on to their children. The last fluent speaker, Delphine Ducloux, died in 1940.
The language was extensively documented during the 19th and 20th centuries, and efforts are currently being made to revive it. Chitimacha courses and a dictionary have been produced, and the language is being taught in the tribal school and early learning center on the Chitimacha reservation near Charenton.
Chitimacha alphabet and pronunciation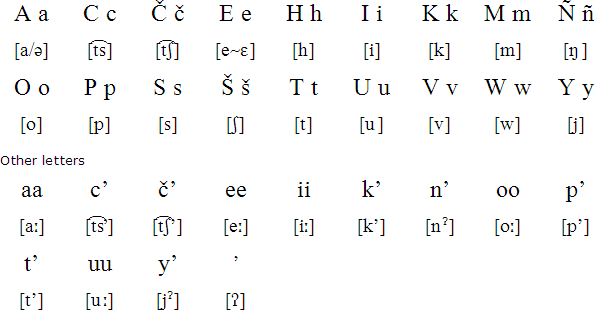 Details of the Chitimacha alphabet and pronuciation compiled by Wolfram Siegel
Download alphabet chart for Chitimacha in Excel or PDF format.
Links
Information about Chitimacha
https://en.wikipedia.org/wiki/Chitimacha_language
https://fr.wikipedia.org/wiki/Chitimacha_(langue)
http://www.chitimacha.gov/history-culture/language
http://www.native-languages.org/chitimacha.htm
http://theconversation.com/renaissance-on-the-bayou-the-revival-of-a-lost-language-43958
https://youtu.be/C4xrsxGE6XA
https://youtu.be/E8bdYBA9VH8
Chitimacha Tribe of Louisiana
http://www.chitimacha.gov/
Language isolates
Ainu, Basque, Burushaski, Chitimacha, Eskayan, Haida, Karuk, Kuot, Mapuche, Natchez, Nivkh, Purepecha, Seri, Sumerian, Ticuna, Tiwi, Tunica, Urarina, Wardaman, Yuchi/Euchee
Other languages written with the Latin alphabet