Elburujimad
The Elburujimad Script was invented by Ruben Touprong early in 2012 while he was in school. He invented it so that he could write his diaries in English without others being able to read them.
When he was doing homework for his Chemistry class (section gmolecular shape h), he discovered the harmonization of Arabic numbers, Roman numbers and Latin alphabet. He put each number in 3 dimensional views on his paper and started to flip and rotate it. He finally found out that each number being rotated would give the corresponding Latin letter shape. For example, number 3 can represent 4 letters according to the rotation and reflection after being flipped over x, y, z axis: E, M, W, F. Finally, he decided to lie those numerical letters horizontally and in a reversed manner.
Notable features
Type of writing system: alphabet
Direction of writing: left to right in horizontal lines
Capital letters and normal letters have no distinction
Used to write: American English, only because it has no diacritic marks or special notation.
Elburujimad script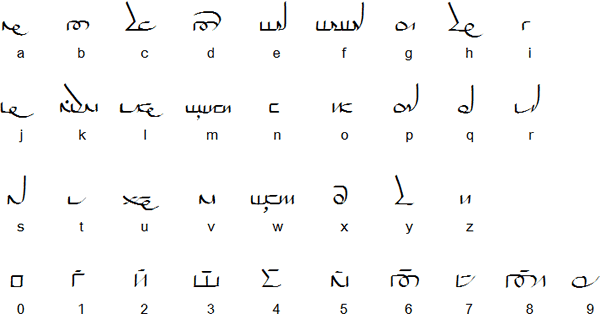 Sample text
Translation
All human beings are born free and equal in dignity and rights. They are endowed with reason and conscience and should act towards one another in a spirit of brotherhood.
(Article 1 of the Universal Declaration of Human Rights)
Link
An Elburujimad font is available from:
http://eijtom.com/ifontmaker-win/gallery/?id=LtwQJy8T