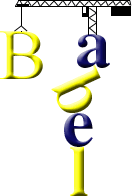 The Tower of Babel (Genesis 11: 1-9)
Western Huasteca Nahuatl
Nopa torre catli itoca Babel
1. Ipan nopa tonali nochi masehualme catli itztoyaj ipan tlaltipactli quipix- que san se inincamanal huan camanaltiya- yaj san se.
2. Huan quema masehualme pejque momoyahuaj, miyac yajque para campa hualquisa tonati. Nepa quipantijque se tlamayamitl ipan tlali Sinar huan nopona nelía miyac masehualme mocajque huan ayacmo quinejque momoyahuase.
3-4. Huan se tonal inijuanti moilhuijque se ica seyoc: "Xihualaca ma tijchihuaca se hueyi altepetl huan se torre catli ajsis hasta ilhuicac. Huan quej ni nochi techiximatise huan amo monequis timoxelose huan tiyase campa hueli ipan tlaltipactli.Ma tijchihuaca ladrillos huan ma tiquicxitica cuali ipan tlitl." Huan quitequihuijque soquitl ladrillos huan amo tetl huan quitequihuijque chapopojtli para quitlatzquiltise huan amo soquitl.
5. Pero TOTECO temoc huan quiitaco nopa altepetl huan nopa torre catli nopa masehualme quisencahuayayaj.
6. Huan yaya moilhui: "Nopa masehualme itztoque san sejco huan san se inincamanal.Yeca ni tlamantli catli ama quichihuaj san ipejya catli san sejco hueli quichihuase. Teipa huelis quisencahuase san catli inijuanti quinequise.
7. Achi más cuali titemose para tiquinpatilise inincamanal para ayacmo ma quimachilica catli mocamanalhuise."
8. Huajca quej nopa TOTECO quichijqui huan yeca quiquetzqui inintequi huan ayacmo quichijque nopa altepetl. Quej nopa TOTECO quinsemanqui nopa masehualme campa hueli ipan tlaltipactli para ma momoyahuaca quen ya quinequiyaya.
9. Huan nopa lugar itoca elqui Babel. (Babel quinequiquiijtos "campa amo huelque momachilíaj se ica seyoc".) Quej nopa itoca pampa nopona TOTECO quipatlac inincamanal nochi masehualme catli itztoyaj ipan ni tlaltipactli para ayacmo huelque momachilíaj. Huan tlen nopona TOTECO quinsemanqui campa hueli ipan tlaltipactli.
Source: La Bíblia en lengua Náhuatl de la Huasteca Occidental. La Liga Bíblica Internacional 2004.
Contributed by Wolfgang Kuhl
Western Huasteca Nahuatl is a Nahuatl language spoken in the Mexican states of San Luis Potosí and Hidalgo by about 400,000 people.
More information about Huasteca Nahuatl
http://en.wikipedia.org/wiki/Huasteca_Nahuatl
http://www.ethnologue.org/language/nhw
Tower of Babel in Uto-Aztecan Languages
Central Huasteca Nahuatl, Eastern Huasteca Nahuatl, Western Huasteca Nahuatl, Guerrero Nahuatl
Other Tower of Babel translations
By language | By language family