Marba (Azumeina)
Marba is a member of the Chadic branch of the Afro-Asiatic language family. It is spoken by about 150,000 people in the south west of Chad, mainly in the Tandjilé Region and the Mayo-Kebbi Est Region.
Marba was historically known as Azumeina, Banana, Bananna or Ho, and is spoken by the Azumenina peoples.
Marba alphabet and pronunciation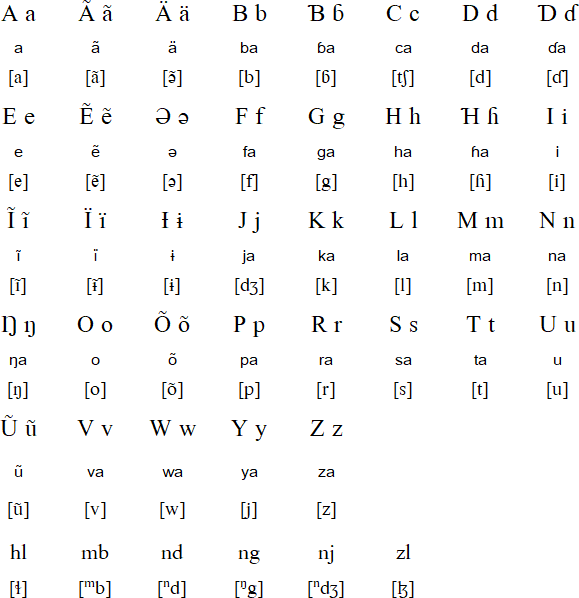 Notes
High tone is marked with an acute accent: á
Low tones are marked with a grave accent: à
' indicates that the two adjacent vowels are pronounced as separate sounds with a slight pause between them.
Download an alphabet chart for Marba (Excel)
Sample text in Marba
Abumi ma sä akulona, ar suma pet a suburuŋ simiyẽŋũ. Ar aŋ mba á te leu maŋa yam andagaɗa. Ar suma a le min maŋa yam andagaɗa ɗigi a ŋa lat sä akulo na mi. Aŋ hami ini te mami ma burã ki burĩna. Ar aŋ vat huruŋ ŋei yam co mamiɗa ɗigi ami ŋa vaɗami hurumi woi yam suma a ŋa lami coɗina na mi. Ar aŋ imi kur kuka ɗi, wani aŋ paɗami woi abo Ma cona. Leuɗa, aɗeŋa ki subura ni maŋa gak didin. Amin.
Source: http://www.bibles.org/mpg-AB/Matt/6
Information compiled by Michael Peter Füstumum
Sample video in Marba
Information about Marba | Tower of Babel
Links
Information about Marba
http://en.wikipedia.org/wiki/Marba_language
http://www.ethnologue.com/language/mpg
Chadic languages
Goemai, Hausa, Marba, Musey, Tangale
Other languages written with the Latin alphabet
---
If you need to type in many different languages, the Q International Keyboard can help. It enables you to type almost any language that uses the Latin, Cyrillic or Greek alphabets, and is free.
If you like this site and find it useful, you can support it by making a donation, or by contributing in other ways. Omniglot is how I make my living.