Kambera (hilu Humba)
Kambera is a member of the Sumba-Flores branch of the Malayo-Polynesian language. It is spoken by about 240,000 people mainly in the east of Sumba Island in the Lesser Sunda Islands in East Nusa Tenggara province of Indonesia.
Kambera is also known as East Sumba, East Sumbanese, Humba or Sumbanese. The native name for the language is hilu Humba, and speakers call themselves Tau Humba. It is used as a lingua franca in central and eastern Sumba. Dialects include Kambera, Melolo, Uma Ratu Nggai, Lewa, Kanatang, Mangili-Waijelo and Southern Sumba. The Kambera dialect is the most widely known.
Kambera was first documented by Dutch government officials and missionaries in the mid-19th century. Since then several grammars, dictionaries and other books in and about the language have been published.
Latin alphabet for Kambera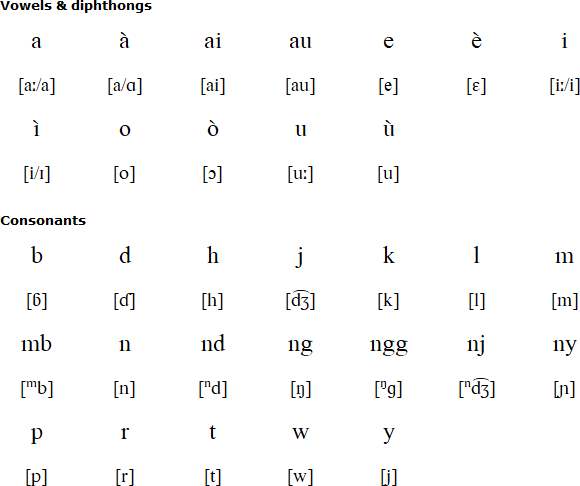 Download an alphabet chart for Kambera (Excel)
Sample text
La kawunga, i Ala ba na-pakiringu pa-padika-nya na pa-nggubulu awangu,La kawunga, i Ala ba na-pakiringu ... na pa-nggubulu awangu; jàka ndia: La kawunga pakiringu-na i Ala pa-padika-nya na pa-nggubulu awangu, jàka ndia La kawunga-na, na-pakiringu i Ala pa-padika-nya na pa-nggubulu awangu.
na pinu tana ndedi ningu hadana, na pakili kiwarungu-pa. Na tehiku na manggibu nggabuna, na ma-palumburu hàlanya mbutana, na-panggumu-nya kapàta yuru yila, didi-aya na mbihana i Ala na mahiri la pinu wai.La hilu Imbarani pekumbu-na ka tuna yia na-haleli-ndanya: tàka na Ngahuna i Ala, jàka ndia: dàngu na ngilu welingu lai Ala, jàka ndia: dàngu na ngilu bokulu.
I Ala natuu liina, "Dediwa harii!" wàna. Nimanya na harii.
Translation
In the beginning God created the heaven and the earth.
And the earth was without form, and void; and darkness was upon the face of the deep. And the Spirit of God moved upon the face of the waters.
And God said, Let there be light: and there was light.
Source: https://www.bible.com/bible/2908/GEN.1.kam?parallel=1
Sample videos in Kambera
Links
Information about Kambera
https://en.wikipedia.org/wiki/Kambera_language
https://fr.wikipedia.org/wiki/Kambera
https://nl.wikipedia.org/wiki/Kamberaas_(taal)
https://www.ethnologue.com/language/xbr
https://books.google.co.uk/books?id=z7S2Bg9ocIUC
Malayo-Polynesian languages
Amarasi
,
Ambel
,
Anuki
,
Araki
,
Balinese
,
Banjarese
,
Batak
,
Bima
,
Bugis
,
Bushi
,
Chamorro
,
Dawan
,
Dhao
,
Duri
,
Ende-Li'o
,
Fijian
,
Galoli
,
Gayo
,
Hawu
,
Hoava
,
Iban
,
Indonesian
,
Javanese
,
Kambera
,
Kerinci
,
Komering
,
Lampung
,
Ledo Kaili
,
Madurese
,
Makasarese
,
Malagasy
,
Malay
,
Malay (Terengganu)
,
Mandar
,
Manggarainese
,
Mbula
,
Mentawai
,
Minangkabau
,
Mualang
,
Musi
,
Ndrumbea
,
Ngaju
,
Nias
,
Paicî
,
Palauan
,
Sasak
,
Sumbawa
,
Sundanese
,
Tetum
,
Tii
,
Toqabaqita
,
Toraja-Sa'dan
,
Wandamen
,
Western Rote
,
Xârâcùù
Languages written with the Latin alphabet
Page created: 24.09.21. Last modified: 24.09.21
[top]
---

Why not share this page:

If you like this site and find it useful, you can support it by making a donation via PayPal or Patreon, or by contributing in other ways. Omniglot is how I make my living.
Note: all links on this site to Amazon.com
, Amazon.co.uk
and Amazon.fr
are affiliate links. This means I earn a commission if you click on any of them and buy something. So by clicking on these links you can help to support this site.
[top]