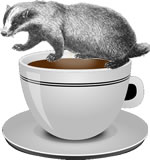 Yesterday I discovered that the Italian word for cup, tazza, is rather similar and possibly confusable with the word for badger, tasso, which can also mean a rate (of exchange) or a yew (tree).
It's unlikely that if you mistakenly ask for un tasso di tè rather than una tazza di tè, you will be given a badger of tea, but it would be an easy mistake to make, especially if you know the French word for cup, tasse, or the Spanish taza, or the German Tasse, which comes from the French, which comes from the Arabic طاس (ṭās – die; bowl), from the Persian تاس (tās – die/dice).
I also discovered the wonderful word owlful, which means full of badgers, or possibly full of owls. How awful it must be to be owlful! It's a word that should have appeared in the Harry Potter books, which are brimful of owls at points, and slightly, though not entirely, badgerless.