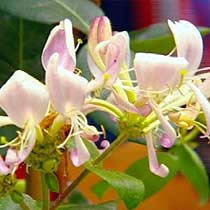 The word zimolez, which is honeysuckle in Czech, came up the other day during a conversation with a Czech friend. It comes from zima (winter) and lézt (to climb, crawl, creep), so could be translated as "winter climber".
Other interesting words that came up include plšík (doormouse), smršť (tornado) brblat (to grizzle, beef, grouch, mutter) and žbrblat (to mutter to oneself). The root smršť also appears in words related to shrinking and contracting, such as smrštit (to shrink), smrštěný (contracted, shrunk) and smršťovací fólie (shrink wrap).
What delicious consonant clusters!
The English name honeysuckle comes from the Old English hunigsuge (honey-suck). An alternative name is Eglantine, which comes from the Old French aiglent (dog rose), from the Vulgar Latin aquilentus (rich in prickles), from the Latin aculeus (spine, prickle), a diminutive of acus (needle)
Names for honeysuckle in other languages include:
German: Geißblatt (goat leaf)
French: Chèvrefeuille (goat leaf)
Irish: Féithleann (vein ale ?)
Italian: Caprifoglio (goat leaf)
Latin: Lonicera
Spanish: Madreselva (mother jungle)
Welsh: Gwyddfid (wild hedge ?) or Llaeth y gaseg (mare's milk)