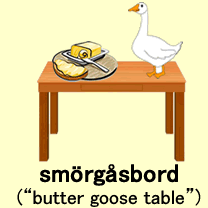 One of the Dutch words I learnt this week is boterham [ˈboːtərˌɦɑm], which means sandwich. The boter part means butter, but it's not certain where the ham part comes from – possibly *ramme / remme (thick slice of bread), or from ham (chunk). Or it might be an abbreviation of boterenbroot (buttered bread) [source].
In Swedish one word for sandwich is smörgås, from smör (butter) and gås (goose). It originally referred to small pieces of butter which float to the surface of the milk as it is churned, and which were spread on bread, and came to mean bread, butter plus toppings, or an open sandwich [source].
A smörgåsbord [ˈsmœrɡɔsˌbuːrd] ("butter-goose-table") is a buffet made up of many cold dishes, and the slices of meat, cheese and other toppings on the smörgåsar are known as smör­gås­pålägg.
Other Swedish words for sandwich include macka (open sandwich), sandvikare (sandwich), snitt (dainty sandwich, cut, fashion) and sandwich.
The sandwich is named after the 4th Earl of Sandwich, John Montagu, who is reputed to have invented it as a convenient way to eat while playing cards. He didn't come up with the idea of putting meat or filling between two slices of bread, but he certainly popularised it and gave it his title [source].
Sandwiches are also known as sarnies, sangers or butties, at least in the UK. Are there other words for them in other English-speaking places?
Are there interesting words for sandwiches in other languages?