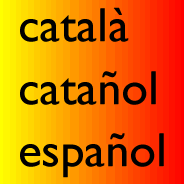 In bilingual communities it is common to switch between languages regularly. This certainly happens a lot among the Welsh speakers I know and hear every day.
Some conversations are mostly in Welsh with occasionally bits of English every so often, some are mainly in English with some bits of Welsh, and some regularly weave between Welsh and English.
According to a friend, it might not be so common for Catalan speakers to mix Catalan and Spanish. He is learning Spanish, and also knows a bit Catalan, and plans to learn more. He believes that Catalan speakers either speak one or the other, and don't usually mix them in one conversation. So if he went to Barcelona and spoke the little Catalan he knows mixed with Spanish, people might find this strange. Is he correct?
According to the Urban Dictionary, Catañol is the mixture of Catalán and Español that people in Catalán-speaking areas of Spain often use to converse.
According to the Wikipedia, Catañol is spoken in Barcelona, especially by young people, and is a form of Spanish with Catalan influences. It emergered during the 20th century as a result of migration to Catalonia from other parts of Spain. It is apparently considered 'vulgar'.
Are there any bilingual or multilingual communities where language mixing is rare or even stigmatised?