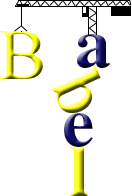 The Tower of Babel (Genesis 11: 1-9)
Chuj of Ixtatán
A d'a peca', ayic toxo ix ec' jun oval a' mucvajum chi', junn̈ej ti'al syal eb' anima.
Ayic van sb'at eb' d'a stojolal b'aj sjavi c'u, ix c'och cajan eb' d'a jun nivan ac'lic d'a yol yic Sinar. Ata' ix cajnaj eb'.
Ay jun c'u ix yal-laj yab' eb' icha tic: Co b'oec lum ladrillo, sco mucan chacb'oc luum, xchi eb'. A lum ix yac'lab'ej eb' sq'uexuloc q'uen q'ueen. Axo spixul luum, ay jun sq'ueta d'a yol luum, te tat, axo stacji, te tzatz tz'aji, asfalto sb'i, a jun chi' ix yac'lab'ej eb'.
Ix lajvi chi', ix yalan eb' vin̈ icha tic: Caq'uec quip co b'oec junoc co nivan chon̈ab'. Sco b'oanecpax junoc nivan torre, te chaan̈ tz'ajq'ue d'a satchaan̈ yic vach' tzon̈ te b'inaji. Junxon̈ej scutej co b'a, man̈ ol on̈ saclemb'at d'a yolyib'an̈q'uinal tic, xchi eb' vin̈.
Axo Jehová ix emul yil jun chon̈ab' yed' jun torre van sb'oan eb' chi'.
Ix yalan icha tic: Ix el yich jun munlajel yuj eb' anima tic. Malaj tas scachanoch vaan eb' vin̈ yic sb'oan eb' tas nab'il yuuj, yujto junn̈ej chon̈ab'il yaj eb', junn̈ej ti' syal eb'.
A ticnaic, con̈ emec d'a scal eb' yic sco somchitan sti' eb', yic vach' man̈xo ol nachajel yuj eb' tastac syal junjun, xchi Jehová chi'.
Icha chi' ix aj saclemcanb'at eb' yuj Jehová d'a sat luum tic. Ix yactan eb' sb'oan jun chon̈ab' chi'.
Aton ta' ix somchajcanb'at sti' eb' anima chi' yuj Jehová. Yuj chi' ix saclemcanb'at eb' d'a smasanil yolyib'an̈q'uinal tic. Yuj chi' Babel ix sb'iejcan jun chon̈ab' chi'.
Source: El Antiguo Testamento en lengua Chuj de San Mateo Ixtatán. Sociedad Bíblica de Guatemala, 2007.
Chuj of San Sebastian Coatán
A jun torre Babel sb'i
A 'a yic pecti', junn̈j sti eb' 'anma tzyala.
'Ix 'el eb' 'a lum lum 'ay 'a stojlal 'aj tzq'uel c'u, ax x'aji, 'ix 'ilchj jun niwquil pan̈n yuj eb' 'a yol yic Sinar, ata 'ix can cajn eb'.
'Ay jun c'ual, 'ix yal eb' 'ixtic: Qui b'oc lum ladrillo, tzlajw cha, tzqui mucnec 'elta, xchi eb'. Atn chi sc'anlb'ej eb', yujto may q'uen q'uen ta', ax jun asfalto 'icha tzataj, a 'ix ya'ch eb' spixloc.
Xlajw cha, xyaln pax ewin 'ixtic: Cotn̈ec, qui b'oc junc niwquil chon̈b' 'a tic. Tzlajw cha, tzqui b'onec junc niwquil torre, masnto tzq'ue'ch 'a satcha'an̈, yic wach' tzon̈ b'inaxec si'mb'il. Junxn̈ej tzon̈ 'ajc qui masnil, man̈xtzac on̈ sactzic 'a sat lum lum tic, xchi ewinac.
Ax Jehová, 'ix 'eml wul yil jun chon̈b' cha, yet' jun torre tzb'o eb' cha.
Yuj cha, xyaln Jehová 'ixtic: A eb' 'anma tic, junn̈j chon̈b'al yaj eb', junn̈j pax sti eb', ¿toc 'ay tas tztenn 'och wan eb' 'a jun munjel x'el yich sb'on eb' tic?
Ax ticnec, 'em coyc 'a scal eb', ca'c somchjoc 'el sti eb', yic wach' man̈xtoc 'oj yab'lac eb' sti', xchi.
'Ixta 'ix 'aj sactzic can 'at eb' 'a sat lum lum tic yuj Jehová, 'ix yactn eb' sb'on jun chon̈b' cha.
Yuj cha, Babel 'ix scuchcn jun chon̈b' cha. A 'a jun lugar chi 'ix yac' Jehová somchjoc can sti eb' 'anma 'a sat lum tic, 'ix sactzic can 'at eb' 'a yolyib'n̈q'uinl tic yu'uj.
Source: Chuj San Sebastian Bible. Sociedad Bíblica de Guatemala. Bible Society of Guatemala, 1999.
Contributed by Wolfgang Kuhl
Chuj of San Sebastian Coatán and Chuj of San Sebastian Coatán are Mayan languages spoken in Western Huehuetenango Department of Guatemala and in Chiapas in Mexico.
More information about Chuj languages
http://www.ethnologue.org/language/cnm
http://en.wikipedia.org/wiki/Chuj_language
Tower of Babel in Mayan Languages
Awakatek, Ch'ol, Chorti, Chuj, Kaqchikel, K'iche', Mam, Poqomchi', Q'anjob'al, Q'eqchi', Tzeltal, Tzotzil, Yucatec Maya
Other Tower of Babel translations
By language | By language family
[top]
---

Why not share this page:

If you like this site and find it useful, you can support it by making a donation via PayPal or Patreon, or by contributing in other ways. Omniglot is how I make my living.
Note: all links on this site to Amazon.com
, Amazon.co.uk
and Amazon.fr
are affiliate links. This means I earn a commission if you click on any of them and buy something. So by clicking on these links you can help to support this site.
Get a 30-day Free Trial of Amazon Prime (UK)
If you're looking for home or car insurance in the UK, why not try Policy Expert?
[top]