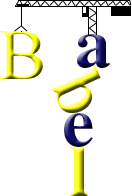 The Tower of Babel (Genesis 11: 1-9)
Binumarien
Babiroonnia máqusasaa kísaaqa máaqa usakóo úfafa.
Indaarú nammári taikóo kámuqoo aiqáma maqásaa qáraasa moodáa úfa faqáasa máridaqa moodáa úfa kaí qímariqau. Aiqáma áinainara moodáa áuqu kaí rée maríqau.
Misá súani óosana qáannai óonuree anirée iqá níniufaqa Babiroonia áfaasa paqúrimmasee miqóo máriqau.
Misá miqóo máridaqa maaqí qímasee narí qímami narí qímami qídaqa qiqau. Ánifaqa ínnisáimbaqa maqá qumáreeqa atakúseeqa idára sáananoo afeekaikámma fínaqa minánnai máaqa usakáa. Maasá miqímmáseeqa áaku aakummáséeqa koorootáqa miná apootaanakí akusáananoo atukaráani.
Miqi qímaseeqa maqee ínnisaimbaqa fúka maqúsa indufúsee kísaaqa máaqa áuqiqa óoru fíinaqa innaarúna amana káì óoruraanaura. Miqímmasee maasa dúqu faqáasa moodáanaki máridaqa sía aiqáma máqa máaqaki dáraanianaura. Miqí qímaseeqa doo miqímmiqau.
Mi maqusána áuquseeqa kísaaqa máaqa faqa usakásoofanóo Karaambáiqa qumu níndafeenoo maaqí qinau.
Maqeé maasáuqa moodáa máqannaasa máridaqa moodáa ufa qídaqa. Misá nárì áuqararee qiá áinainna óosana áraidaqa. Qúsasaa misá nárì nídimari ainainná áuqeefaranoo.
Dóo ánifaqa ínni sáimbaqa óoquree misá ufa fúrufaramma nímaqasaanaqa sía narí ufa narí ufa íriaqa.
Ánutufa miqí qímasee misá ufa fúrufaramma nímaqasoofaqá misá mi maqusána áuquanee quná minníseeqa maqa máaqaki daráaniqau.
Mi maqusána áuqu Babiroonnia fée qímariqau. Miqóo karaambáiqa fánnoo misá ufa furufarammá nímaqóonara miqí qímasee áuqu raqau. Miqóo máruna Karaambáiqa fúrufáramma nímaqasoofaqa aiqáma máqa máaqaki daráaniqau.
Source: Óosana Ároo Ufafa. (Genesis) in Binumarien language. Wycliffe Bible Translators, Inc. 1983, 2013.
Contributed by Wolfgang Kuhl
Binumarien is a Kainantu language spoken in Eastern Highlands Province of Papua New Guinea.
Information about Binumarien
http://www.ethnologue.com/language/bjr
http://en.wikipedia.org/wiki/Binumarien_language
Tower of Babel in Trans-New Guinea languages
Amele, Awara, Barai, Beami, Bimin, Binumarien, Blagar, Borong, Burum-Mindik, Dadibi, Faiwol, Guhu-Samane, Huli, Kamasau, Kamono, Kamula, Kanasi, Kanite, Komba, Kosarek, Kosena, Kyaka, Maia, Maring, Narak, Ngaing, Numanggang, Samberigi, Siroi, Tairora, Tuma-Irumu, Una, Waris, Waskia, Yali, Yipma, Yongkom
Other Tower of Babel translations
By language | By language family
[top]
---

Why not share this page:
If you like this site and find it useful, you can support it by making a donation via PayPal or Patreon, or by contributing in other ways. Omniglot is how I make my living.
Note: all links on this site to Amazon.com
, Amazon.co.uk
and Amazon.fr
are affiliate links. This means I earn a commission if you click on any of them and buy something. So by clicking on these links you can help to support this site.
Get a 30-day Free Trial of Amazon Prime (UK)
If you're looking for home or car insurance in the UK, why not try Policy Expert?
[top]