Zou
Zou is a member of the Kukish branch of the Sino-Tibetan language family. It is spoken in Chin State in northwestern Burma, and in Manipur and Assam in northeastern India. There are also some Zou speakers in the Chittagong Hill Tracts of Banglasdesh. In 2012 there were an estimated 82,000 speakers.
Zou is also known as Jo, Jou, Yo, Yos, Yaw, Zo, Zokam, Zome, Zomi or Zou Chin. The name means "of the hills".
In addition to the Latin alphabet, which was introduced by missionaries, there is another script for Zou known as Zoulai. It was created by M. Siahzathang of Churachandpur, Manipur in 1952.
Details can be found at:
http://skyknowledge.com/zolai.htm
Zou alphabet and pronunciation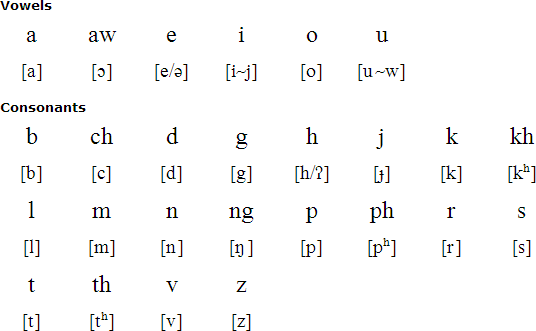 Notes
H is pronunced [h] at the beginning of a syllable and [ʔ] at the end.
Download a Zou alphabet chart (Excel)
Sample text (Lord's Prayer)
Ka Pa uh van a um, Namin kizatat hen, Na gam hing tung hen, na deilam van a akibawl bangin, lei ah zong kibawl hen. Tuni'n nichin a ka neh ding uh ann hing pie in. Ka leibate uh ka ngaidam bang un, ka batte uh hing ngaidam in. Solna ah hing puilut sinlen, gilou lah ah hing hunkhe zawin, gamte, silbawltheinate, leh thupinate kumtawn a Nanga ahizieh in.
Information about the Zou alphabet, and the sample text, provided by Michael Peter Füstumum
Information about Zou | Numbers | Tower of Babel
Links
Information about Zou
https://en.wikipedia.org/wiki/Zou_language
http://www.ethnologue.com/18/language/zom/
Learn to Speak Zou
http://www.inpui.com/2009/03/learn-to-speak-zou-lesson-1.html
Kukish languages
Other languages written with the Latin alphabet