Wiradjuri (Wirraayjuurray/Wirraaydhuurray)
Wiradjuri is a member of the Wiradjuri group of the Pama-Nyungan languages. It is spoken by about 1,000 people in the central southern region of New South Wales of Australia.
In 1981 only three people spoke Wiradjuri and by 2009 no native speakers remained, however the language has been successfully revived. A standardised spelling system for the language was approved by the Wiradjuri Council of Elders in 1988, and there are now a number of textbooks, grammars, a dictionary and other materials in the language.
Wiradjuri is currently taught at all levels of education in the towns of Parkes and Forbes in New South Wales, where about 10% of the people speak the language.
Wiradjuri pronunciation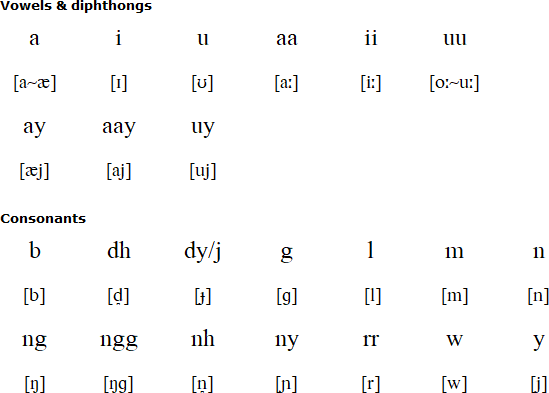 Information compiled by Wolfram Siegel.
Links
Information about the Wiradjuri language
http://en.wikipedia.org/wiki/Wiradjuri_language
http://www.abc.net.au/message/tv/ms/s1006316.htm
http://www.canberra.edu.au/monitor/articles/new/20070508_reconciliationacland
Online Wiradjuri lessons
http://www.wiradjuri.org
Songs in Wiradjuri
http://www.youtube.com/watch?v=fjc3PzWaNXI
http://www.youtube.com/watch?v=RrZN7g_xh30
Wiradjuri Language Development Project
http://blackwebs.photoaccess.org.au/~wiradjurildp/
How a language transformed a town
http://www.abc.net.au/local/stories/2012/07/04/3538590.htm
Pama-Nyungan languages
Arrernte, Bundjalung, Gamilaraay, Gooniyandi, Gugadja, Kala Lagaw Ya, Kaurna, Murrinh-Patha, Ngiyambaa, Noongar, Paakantyi, Pitjantjatjara, Warlpiri, Wemba Wemba, Wik-Mungkan, Wiradjuri, Yindjibarndi, Yolngu
Other languages written with the Latin alphabet