Western Rote (Dela-Oenale)
Western Rote is a member of the Timor-Babar branch of Malayo-Polynesian languages spoken in Rote Island near Timor in Indonesia by about 7,000 people.
Western Rote alphabet and pronunciation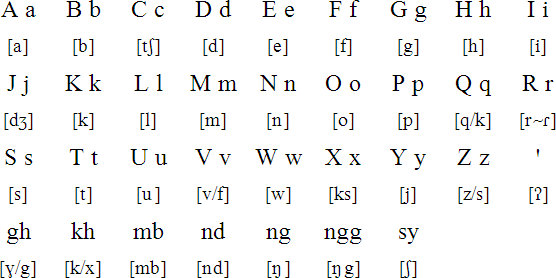 gh, kh, q, sy, v, x, and z are only used in loanwaords and foreign names, and they are usually replaced by g, k, k, sy, f and s respectively.
Download an alphabet chart for Western Rote (Excel)
Sample text (Lord's Prayer)
Amaꞌ sia sorga! Amaꞌ naram meumareꞌ manaseliꞌ Hela fo basa atahori soꞌu rananaru Amaꞌ naram manaseliꞌ a. Amaꞌ dadꞌi maneꞌ soaꞌ neu basa atahori! Hela neu fo basa atahori tao tungga Amaꞌ parendan sia raefafoꞌ ia, onaꞌ basa mana sia sorga ra tao tungga Amaꞌ parendan sia sorga. Amaꞌ tulun pala-bꞌanggi fee hai nanaat manadꞌaiꞌ tungga-tungga fai. Hai moꞌe Amaꞌ fee ambon neu basa hai sala-kiluꞌ mara, onaꞌ hai fee ambon neu atahori mana tao salaꞌ neu hai boe. Amaꞌ, munea hai fo hai afiꞌ tao deꞌulakaꞌ. Ma mboꞌi hendi hai mia nitu a koasan. Te Amaꞌ, Maneꞌ mana koasa ma manaseliꞌ Amaꞌ mana toꞌu parendaꞌ mukundooꞌ a. Hai hule-oꞌem baꞌu a naa ena, Amaꞌ. Amin.
Source: http://e-alkitab.org/Dela/frame_MAT06.htm
Details of Western Rote pronunciation and sample text provided by Michael Peter Füstumum
Sample video in Western Rote
Information about Western Rote | Tower of Babel in Western Rote
Links
Information about Western Rote
https://en.wikipedia.org/wiki/Dela-Oenale_language
http://www.ethnologue.com/18/language/row
Malayo-Polynesian languages
Other languages written with the Latin alphabet