Pochuri
Pochuri is a member of the Angami-Pochuri branch of the Sino-Tibetan language family spoken mainly in southeast Nagaland in northeast India. There are also some Pochuri speakers in Ukhrul district of Manipur. According to the 2001 census, there are 17,000 speakers of Pochuri, which is also known as Pochuri Naga.
Pochuri alphabet and pronunciation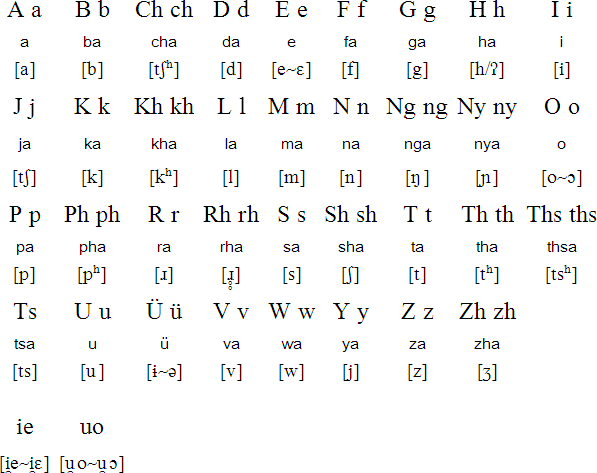 Notes
H is pronounced [ʔ] at the end of syllable.
Download an alphabet chart for Pochuri (Excel)
Sample text (Lord's Prayer)
Hiri Pa rügi vü küpehwa; no kümtse nyowa tü küsiakeluo; Noh kükajiwa küru luo; azhih ha nga vi thajüwu vü kümüjie noh müshe saluo, Nosü nüh nosü avo hiri tsüluo, Nyuri nüh hiri vü müküle küsa hiri nüh noküja kümüjie, hiri nüh müküle saküsari nojatsüluo, Hiri vi kümüramüzhi lovü müthse tümü luo; thitü kümüsüwa vünüh hiri külole luo. Küpakenühnyunü kajipewa thi kükhra thi kütholawa tü küsuokürho noh zhi wiethuoh.
Source: https://www.bible.com/bible/1546/MAT.6.POCHURY
Information about Pochuri | Numbers | Tower of Babel
Links
Information about the Pochuri language
https://en.wikipedia.org/wiki/Pochuri_language
http://www.ethnologue.com/18/language/npo
Other languages written with the Latin alphabet