Mankanya (Uhula)
Mankanya is spoken in Guinea-Bissau, Senegal and Gambia by about 68,955 people and belongs to the Bak branch of the Niger-Congo language family. Mankanya was name of the chief of the Mankanya people at the time of colonisiation, and was mistakenly thought, by colonialists, to refer to the tribe and their language. They call themselves Bahula and their language Uhula.
Mankanya is an offical language in Senegal, and a standard way of writing the language was developed in 2005 by the Senegal government.
Mankanya alphabet and pronunciation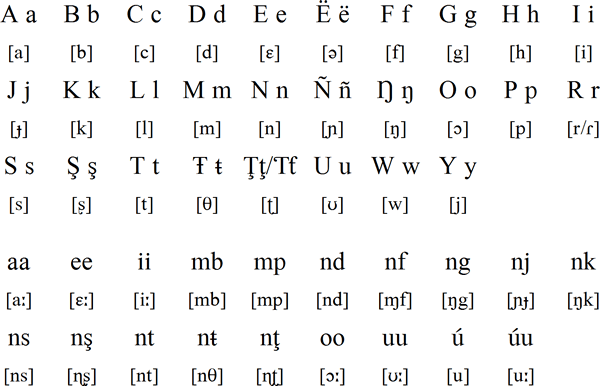 Note - information about Mankanya pronunciation is difficult to find. If anybody can help with this, please let me know.
Sample text in Mankanya
Bañaaŋ bŧi bawo kate uƭup wi, tiki ujoonani : Wi ŋkeƭuŋ na Kriŧtu, ŋluŋ kaka ubida na a. Woli ŋmëban aliinŧ, ŋluŋ kaşih na a. Woli ŋpoka, ul kak aluŋ kapok nja. Woli ŋdeka kafeƭ, aji woha na nja kamëban nja, aanhil kalaƭ uleeful.
Source: http://www.sil.org/resources/publications/entry/43443
Translation
11 It is a faithful saying: For if we be dead with him, we shall also live with him: 12 If we suffer, we shall also reign with him: if we deny him, he also will deny us: 13 If we believe not, yet he abideth faithful: he cannot deny himself.
2 Timothy 2:11-13
Information about Mankanya, Tower of Babel in Mankanya