Idu Mishmi (Luoba)
Idu Mishmi is a Digaro language, a group of languages which possibly belongs to the Sino-Tibetan language family. It is spoken in northeast India in the Dibang Valley district of Arunachal Pradesh. There are also speakers in China in Zayü County (察隅县 / རྫ་ཡུལ་རྫོང་།) in Nyingchi (林芝市 / ཉིང་ཁྲི་གྲོང་ཁྱེར།) in the southeast of the Tibet Autonomous Region. According to the 2001 census, there were 11,000 speakers.
Idu Mishmi is also known as Idu, Yidu, Midu, Mindri or Mithu. In Chinese it is known as 义都语 (Yìdū yŭ).
Idu Mishmi alphabet and pronunciation
Idu Mishmi is rarely written. A version of the Tibetan alphabet was traditionally used, and the Latin alphabet is currently used.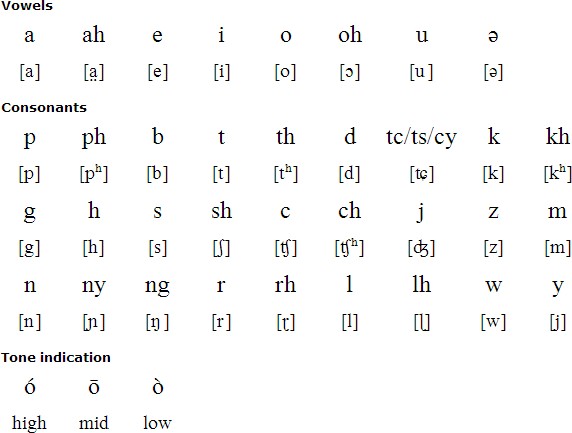 Source: http://www.rogerblench.info/Language/NEI/Mishmi/Idu/Idulang/Idu%20Mishmi%20handbook%20Pulu%202002.pdf
Download an alphabet chart for Idu Mishmi (Excel)
Information about Idu Mishmi | Idu Mishmi Numbers
Links
Information about Idu Mishmi
https://en.wikipedia.org/wiki/Idu_Mishmi_language
http://www.ethnologue.com/18/language/clk
http://www.rogerblench.info/Language/NEI/Mishmi/Idu/Idulang/Idu%20Mishmi%20handbook%20Pulu%202002.pdf
Idu Mishmi Dictionary
http://www.rogerblench.info/Language/NEI/Mishmi/Idu/Idulang/Idu%20dictionary%202017.pdf
Idu Mishmi Grammar
http://www.rogerblench.info/Language/NEI/Mishmi/Idu/Idulang/Idu%20grammar%202017.pdf
Idu Mishmi Phrasebook
http://www.rogerblench.info/Language/NEI/Mishmi/Idu/Idulang/Idu%20phrasebook%201978.pdf
Idu Mishmi Proverbs
http://www.rogerblench.info/Language/NEI/Mishmi/Idu/Idulang/IduMishmiProverbs_Pulu2002.pdf
Links compiled by Wolfgang Kuhl
Digaro languages
Other languages written with the Latin alphabet