Achuar-Shiwiar (Achuár chícham)
Achuar-Shiwiar is a Jivaroan language spoken Peru and Ecuador by about 5,000 people who belong to the Achuar, Shiwiar and Maina tribes. It is spoken along the Morona, Macusari, Tigre, Huasaga and Corrientes rivers in Peru, and along the Pastaza and Bobonaza Rivers in Ecuador.
The language is also known as Achuar Chicham, Achuar-Shiwiar, Achuar-Shiviar, Achuár, Ashuar, Achual, Achuale, Achuare, Achuara, Atchuara, Shiwiár, Shiviar, Shiwiar-Maina, Shiwiar Chicham, Máin, Mayna, Mayno, and Áints
Achuar-Shiwiar alphabet and pronunciation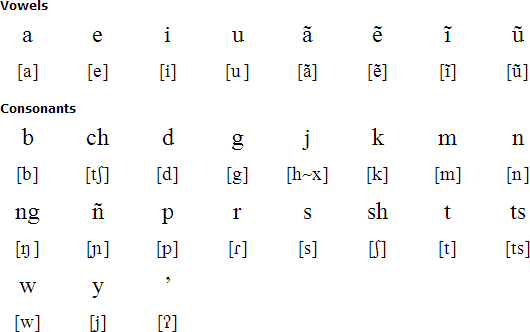 Download an Achuar-Shiwiar alphabet chart (Excel)
Sample text in Achuar-Shiwiar
Aints ainauti mash metek nuwanmaya akiinawaitji. Turasha angkan pengker pujusmi tusar akiinawaitji. Aintstikia mash ji nintijai paan nintimratnuitji, turasha pengker aa nu nekaatnuitji. Turasha pase aa nusha nekaatnuitji. Turasha ji pataachiri ainaujai pengker nintimtunisar pujaj ina nunisrik chikich ainauj aisha pengker nintimtunisar pujustinuitji.
Source: http://www.ohchr.org/EN/UDHR/Pages/Language.aspx?LangID=acu
Translation
All human beings are born free and equal in dignity and rights. They are endowed with reason and conscience and should act towards one another in a spirit of brotherhood.
(Article 1 of the Universal Declaration of Human Rights)
Information about Achuar-Shiwiar | Tower of Babel
Links
Information about the Achuar-Shiwiar language
http://www.ethnologue.com/show_language.asp?code=acu
http://en.wikipedia.org/wiki/Shiwiar_language
http://www.native-languages.org/achuar.htm
Jivaroan languages
Other languages written with the Latin alphabet