Maghrebi Arabic alphabet (
دارجة

)

The Maghrebi Arabic alphabet is a way of writing the Maghrebi dialects of Arabic (Tunisian, Algerian, and Moroccan) devised by Emad Adel. This alphabet is based on how people write the Maghrebi dialects on social media and in literature, such as the Bible and dictionaries. Some Facebook pages have started using it.

Emad's goal was to create a single written Maghrebi language instead of having three different languages or even more. This was possible by using Arabic script and relying on Modern Standard Arabic orthography.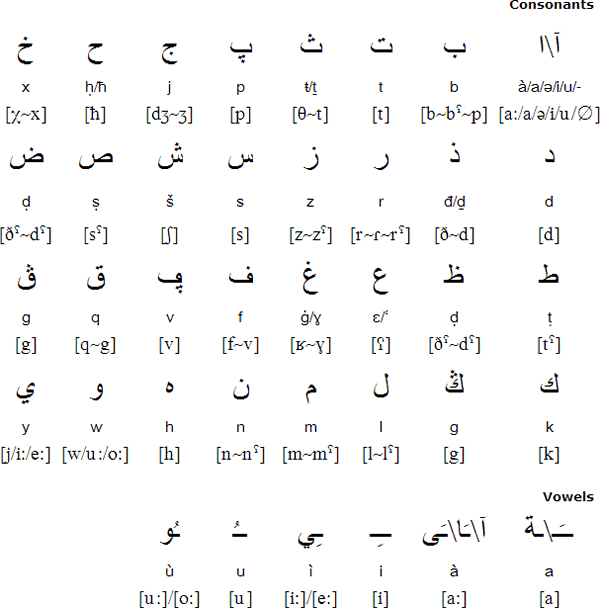 Notes
ظ is not used in writing Maghrebi and it is replaced with ض.
Alif has no particular sound. At the beginning of words by means of diacritics it can denote à (آ), a (اَ), i (اِ), u (اُ) but elsewhere, it always denotes à. However, only the diacritic of à (آ) is commonly written.
Download an alphabet chart for the Maghrebi Arabic alphabet (Excel)
Sample text

Link
Information about Maghrebi Arabic alphabet
http://works.bepress.com/Emad-Adel/1/
- Learn Arabic online with ArabicPod101
- TalkInArabic.com - learn colloquial Arabic of Algeria, Egypt, Iraq, the Levant, Morocco, Saudi Arabia, Sudan or Tunisia

- Learn Arabic online for free with Mondly
- Learn Arabic with Glossika
- Learn Arabic quickly and easily with Rocket Arabic
- Arabic Genie - a quick and easy way to learn the Arabic alphabet
Find Arabic Tutors on Preply
Arabic courses and other resources available on Amazon
Varieties of Arabic
Algerian, Cypriot, Egyptian, Lebanese, Modern Standard, Moroccan, Syrian, Tunisian
Information about Arabic | Phrases | Numbers | Video lessons | Tower of Babel | Articles | Links | Learning materials | Books about the Arabic script | Arabic electronic dictionaries and translators | Find Arabic tutors
---
If you need to type in many different languages, the Q International Keyboard can help. It enables you to type almost any language that uses the Latin, Cyrillic or Greek alphabets, and is free.
If you like this site and find it useful, you can support it by making a donation, or by contributing in other ways. Omniglot is how I make my living.