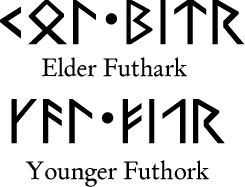 I learnt an interesting word in Old Norse recently: kol-bitr ("coal-biter"), which refers to an idle person who always sits by the fire. kol = coals, charcoal, and bitr = biting, snapping; cutting, sharp [source].
In Elder Futhark runes this is ᚲᛟᛚ᛫ᛒᛁᛏᚱ and in Younger Futhork runes it's ᚴᚫᛚ᛫ᛓᛁᛐᚱ.
A visitor to Omnglot asked me about this expression and how to write it in Runes. I thought I'd post it here to show the kinds of questions that stream in to Omniglot HQ. I never know what I'll be asked, and do my best to answer whatever questions come my way, and I've become pretty good at finding information, no matter how obscure.