Pite Sámi (bidumsámegiella)
Pite Sámi is a Western Sámi language spoken in Sweden by between 25 and 50 people. It was formerly spoken in Norway as well, but is now only spoken in Sweden along the Pite River in Arjeplog municipality (Árjepluovve). It is also known as Arjeplog Sámi, and is closely related to Lule Sámi.
The first written texts in Pite Sámi appeared in the early 18th century, when a translation of a Christian prayer book was published. In the late 19th century a researcher from Hungary, Halasz Ignácz, published a number of works on Pite Sámi, including a grammar and a dictionary. During the 20th century a number of researchers collected texts and recordings in Pite Sámi, and since the beginning of the 21st century there have been moves to revitalise the language and to establish a written standard.
Pite Sámi alphabet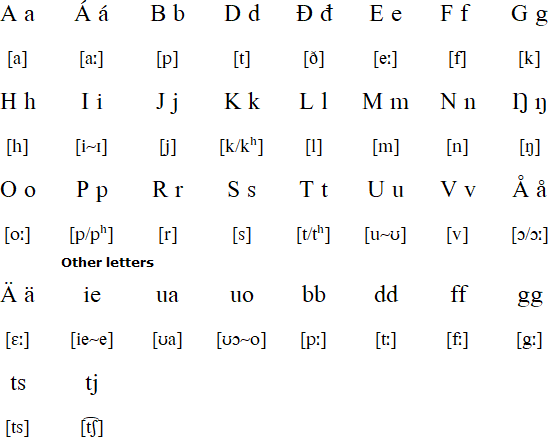 Pite Sámi pronunciation
Notes
p, t & k are often pre-aspriated after vowels, e.g. dat = [d̥aʰt]
When pp,tt & kk preceded consonant, they are pronounced with /x/ after them, e.g. guäktte = ['gwækx.tiə]
When bb, gg, dd follow after a consonant, a vowel is often added before them, e.g. gálbbe = ['ɡalɛb:iə]
Download alphabet charts for Sámi languages (Excel)
Samples in Pite Sámi
Merrasáme Nordlándan sehkanin vuonagij ja láhppin sámegielav ja kultuvrav, valla ellosáme buorebut bisodin etjasa gielav ja kultuvrav. 1700-låge rájes mådde urrun Vuona bielen ja vessun enamus ednam ja mättse bargos ja guollimis. Muhtema li aj ellosujtujn Vuona bielen barggam, guohtomriektájn jala guohtomriekta dagá Svieriga bielen jage åsijn.
Bihtámsáme bájkke Vuonan lä suokana Bájddár, Oarjjelij-Bájddár, Meløy, Rødøy ja Sálavuobme, ja Fuosko ja Buvda åses. Svieriga bielen lä bidumsámegiella Árjepluove kommuvnan ságastuvvum. Svierjin såjhda li mådda tuvsán bidumsáme álmmatja. Dassta li utsemus 50 almmatja ma ain máhtti gielav sagastit. Váddes lä dehtet galles etjasijt nammadi bidumsábmen Vuonan, vädjá jurra de ålobu gå moadda tjuode.
Bidumsámegielan lä aktlagatjmärkka julevsámegielajn. Ubmemsámegiella lä veha etjálágátj. Bidumsámegielan ij lä ajn dåhkkidim tjállemvuohke. Dál li báhkogirjijn barggamin ja dat tjáleduvvuj julevsáme tjállemvuohkáj.
1999 jagen vuododuváj Sálto Bidumsámi säbbre. Säbrre lä årrum åvdedäddje vuododit bidumsáme guovdátjáv namájn Duoddárá Ráffe åbme lensmannadåben Dokmon Bájddárin. Samesäbrre lä ásadam gellakursav bidumsámegielan, åhpadäddjij svierje bieles.
Source: http://skuvla.info/skolehist/pite-s.htm
Norwegian version
Pitesamisk område i Noreg blir rekna som kommunane Beiarn, Gildeskål, Meløy, Rødøy og Saltdal, samt delar av Fauske og Bodø.
På svensk side er pitesamisk språk i første rekke snakka i Arjeplog kommune. I Sverige er det kanskje eit par tusen med pitesamisk etnisitet, derav er det minst 50 som framleis meir eller mindre kan snakke språket. Det er vanskelig å vite kor mange som reknar seg som pitesamar i Noreg, det kan knapt vere meir enn eit par hundre.
Pitesamisk språk er i nær slekt med lulesamisk, noko fjernare med umesamisk. Pitesamisk har inga offisiell rettskriving, men det er no igang arbeid med å lage ei pitesamisk ordbok. Denne bygger på rettskrivingsprinsippa for lulesamisk.
I 1999 blei Sálto bihtesámi searvi / Salten pitesamiske forening oppretta. Foreninga har vore ei drivkraft i å etablere eit pitesamisk senter med namnet Duoddárá Ráffe (Viddas Fred) i den gamle lensmannsgarden på Dokmo i Beiarn. Sameforeininga har arrangert språkkurs i pitesamisk, med lærarar frå svensk side.
Source: http://skuvla.info/skolehist/pite-n.htm
Information about Pite Sámi | Numbers
Some of the information on this page was supplied by 이윤호
Links
Information about Pite Sámi
http://en.wikipedia.org/wiki/Pite_Sami_language
http://nn.wikipedia.org/wiki/Pitesamisk
http://www.lokalhistoriewiki.no/index.php/Pitesamisk
http://www2.hu-berlin.de/psdp/index.html
http://www.pitesamisk.no
http://skuvla.info/skolehist/pite-s.htm
Insamling av pitesamiska ord (Pite Sámi word-list project)
http://www.interregnord.com/sv/beviljade-projekt/sapmi/4-graensloes-utveckling/insamling-av-pitesamiska-ord.aspx
Pitesamisk–lulesamisk–norsk ordliste
http://alnakka.net/w/index.php?title=Pitesamisk–lulesamisk–norsk_ordliste
Pitesamiske stadnamn (Pite Sámi place names)
http://alnakka.net/w/index.php?title=Pitesamiske_stadnamn
Akkala Sámi, Inari Saami, Kildin Sámi, Lule Sámi, Northern Sámi, Pite Sámi, Skolt Sámi, Southern Sámi, Ter Sámi, Ume Sámi
Languages written with the Latin alphabet
Page last modified: 23.04.21
[top]
---

Why not share this page:

If you like this site and find it useful, you can support it by making a donation via PayPal or Patreon, or by contributing in other ways. Omniglot is how I make my living.
Note: all links on this site to Amazon.com
, Amazon.co.uk
and Amazon.fr
are affiliate links. This means I earn a commission if you click on any of them and buy something. So by clicking on these links you can help to support this site.
Get a 30-day Free Trial of Amazon Prime (UK)
If you're looking for home or car insurance in the UK, why not try Policy Expert?
[top]