Learning Russian: Easy Way to Start
by Kevin Nelson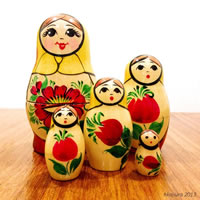 When it comes to learning a new foreign language, not many people actually consider picking Russian as their language of choice. From one point of view, it isn't surprising at all, as many people think that Russia is a very intimidating country. However, if you look at it differently, you'll see that there actually are so many reasons to learn Russian.
Why Should You Try Learning Russian?
First, even if Russia might seem intimidating, it is actually very interesting. Learning Russian can be a way to understand this country better and to get to know Russians too. Though they might seem rough sometimes, they actually react very well to people knowing their language and willing to learn more about their country. Even if you know a bit of Russian that could be enough to impress them, not even mentioning the fluent knowledge of their language.
Second, not only Russians speak Russian: people in Ukraine, Belarus, Latvia, and Lithuania know and speak it too. It's a well-known language in Eastern Europe, so you'll be able to communicate with people from different countries once you'll learn it. Moreover, you'll feel more comfortable during your journeys as you'll be able to understand all the signs written in Cyrillic.
Third, there is a chance that you or someone you know could need to use Russian in their work someday. I've seen many movies that tried to use Russian words and novels that try to do that too. In most cases, it seemed weird, as these misspelled words had nothing to do with real Russian language. If you ever need to use Russian in your work and think that simply using Google Translate would be enough, you'll just make people laugh.
Of course, that's not all reasons for you to learn one of the most interesting and complex languages; however, these are the main reasons. But simply deciding that you do want to learn Russian after all is not enough: you have to find a way to make it work especially for you, as Russian is called complex for a reason. If you aren't familiar with Cyrillic and haven't been to Slavic-speaking countries before, this can be especially tough. But don't worry: here are some tips that'll make it easier for you.
1. Find Your Motivation
That's the first and the most important thing to do before switching to the whole learning process. If you aren't able to answer yourself what is your main reason to learn Russian, you may find it hard to motivate yourself to study, to find time for learning and so on.
Once you decide that you want to learn a certain language you have to think about why you want to do so, how it would benefit you, etc. Remember all your arguments and remind them to you when you feel like you're running out of motivation.
2. Start from the Basics
Today we have so many apps allowing learning different languages from scratch. However, a few of them actually teach us the basics of a certain language, focusing on remembering the words instead. While it is definitely good for your vocabulary, this won't help you to actually master the language. You need to understand the basics before switching to actual learning, which is especially important for the Russian language, as you have to learn the Cyrillic alphabet first. That's a tricky challenge: some Cyrillic letters look familiar but sound completely different. That's why it's so important to learn them first, so you won't be confused later.
Then you can switch to learning programs for beginners. You can find many of them online (moreover, some of them are available for free) or try searching for a language courses in your city. During you learning process try to concentrate on pronunciation and accent the most as they are very challenging too.
3. Find Someone to Practice Russian With
After you've mastered the basics you can combine learning process with practice, having conversations with native speakers. This will help you understand the language better, learn it quicker and maybe even make new friends. The good thing here is that it would probably be easy: there are so many Russian-speaking people almost in every country. And if you aren't ready to search for a conversation partner somewhere near, try looking for them online. There are so many websites made especially for that purpose so that probably would be an easy challenge. Moreover, you can even join Vkontakte: this social media is an analog of Facebook used mostly by Russian-speaking people. Try making some friends and practicing language there.
However, even if you prefer practicing language online, you still should be open to the opportunities (especially when your language skills will become better). Consider visiting Russia or any other Russian speaking country or talking with Russian tourists that come to your town. You can find them on websites like Couchsurfing and offer them a city tour or a place to stay in exchange for a nice conversation.
4. Surround Yourself with Language
Even if you don't want to travel abroad to practice the Russian language, you still can surround yourself with it. If your language skills are already pretty strong, consider reading books in Russian, for example. However, if your skills aren't that good yet, you can choose another option: for example, watch films in Russian, listen to Russian music and so on. Don't worry if that seems too challenging: after all, you can find subtitles easily.
The best thing you can do when it comes to movies and books is to choose the ones that aren't simply translated to Russian but are made in Russia. This way you'll be able not only to strengthen your skills and to widen your lexicon but also to understand Russian mentality and culture deeper. I recommend you checking out old films like "The Irony of Fate, or Enjoy Your Bath!", "Office Romance" and so on: they are very sweet and nice.
When you read books, watch movies, and listen to music in Russian, this surely helps you improve your language. But there's another important benefit: when you do so, you can communicate with Russians more easily as you already have a few topics to discuss.
There are actually many other ways to make the whole language process more entertaining. For example, you can try cooking some dishes from Russian cuisine and remember how the ingredients are called. You can try some of the hobbies that are common in Russia (for example, knitting, painting, etc.), join Postcrossing to find more Russian speaking friends or watch YouTube bloggers from Russia. Learning more about a country's culture, mentality and history is just as useful and interesting as learning this country's language. Moreover, this way you'll be able to turn the whole language learning process into an important part of your life and impress your friends with your new skills and hobbies.
Maybe you are a businessperson wanting to learn new languages to communicate with business partners. Maybe you are a person, who's interested in Russian culture. Maybe you are a writer, who needs this to improve their writing and make it more realistic. Either way, I can assure that learning Russian can be not only tough but also interesting and entertaining. I wish you good luck with that!
About the writer
Kevin Nelson started his career as a research analyst and has changed the sphere of activity to writing services and content marketing. Except writing, he spends a lot of time reading psychology and management literature searching for the keystones of motivation ideas. Feel free to connect with him on Facebook, Twitter, Google+, Linkedin.
Information about Russian | Useful phrases | Silly phrases | Numbers | Colours | Time | Family words | Terms of endearment | Weather | Idioms | Tongue twisters | Tower of Babel | Articles | Links | Learning materials
Writing systems | Language and languages | Language learning | Pronunciation | Learning vocabulary | Language acquisition | Motivation and reasons to learn languages | Arabic | Basque | Celtic languages | Chinese | English | Esperanto | French | German | Greek | Hebrew | Indonesian | Italian | Japanese | Korean | Latin | Portuguese | Russian | Sign Languages | Spanish | Swedish | Other languages | Minority and endangered languages | Constructed languages (conlangs) | Reviews of language courses and books | Language learning apps | Teaching languages | Languages and careers | Being and becoming bilingual | Language and culture | Language development and disorders | Translation and interpreting | Multilingual websites, databases and coding | History | Travel | Food | Other topics | Spoof articles | How to submit an article
[top]
---

Why not share this page:
If you like this site and find it useful, you can support it by making a donation via PayPal or Patreon, or by contributing in other ways. Omniglot is how I make my living.
Note: all links on this site to Amazon.com
, Amazon.co.uk
and Amazon.fr
are affiliate links. This means I earn a commission if you click on any of them and buy something. So by clicking on these links you can help to support this site.
Get a 30-day Free Trial of Amazon Prime (UK)
If you're looking for home or car insurance in the UK, why not try Policy Expert?
[top]