Today we have a guest post by Tim Brookes
—————————————————-
I knew next to nothing about writing systems until five years ago, when more or less by accident I began carving endangered alphabets.
I'd spent my life as a nonfiction writer, with no pretensions to be a visual artist, when one Christmas I decided to make gifts for my family by carving their names in boards of Vermont maple, with the bark still on and a beautiful ripple in the grain.
These came out surprisingly well, and in casting around for something else to carve, I stumbled on Omniglot.com.
The range and variety of writing systems, many of which I'd never heard of, was amazing. Doing a little mental arithmetic, though, I realized that fully a third are in danger of dwindling out of existence.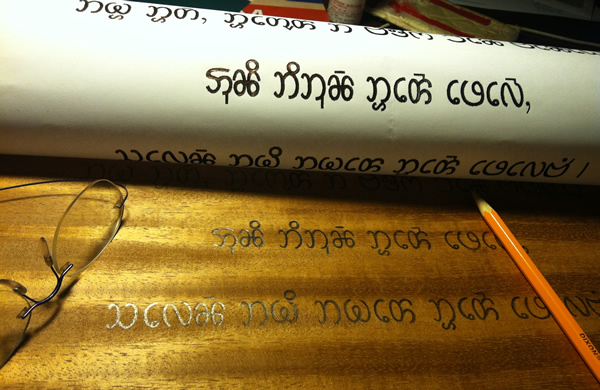 A Chakma carving in progress
I decided to carve some of the scripts to draw attention to the problem of language loss and cultural erosion. Working with a set of gouges and a paintbrush, I created an initial exhibition of thirteen carvings, which have since been exhibited in schools, libraries, and universities across the United States and Europe.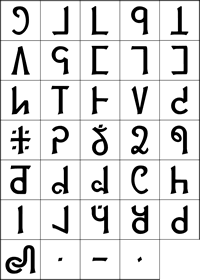 Then I expanded my range, creating several dozen pieces depicting words, phrases, sentences, or poems in vanishing alphabets from all over the world, including three scripts of indigenous peoples in Bangladesh: the Mro, Marma, and Chakma.
At the time I had no idea I would meet a member of the Marma people, a remarkable man named Maung Nyeu, and that we would collaborate on a preservation project that may become a model of how to reverse linguistic decline and the cultural collapse that goes with it.
I must confess that when I started my project, my interest in carving and exhibiting scripts was a little theoretical—after all, I couldn't actually read or write what I was carving, and I had never seen language or script endangerment up close.
All that changed in June 2012, when I first met Maung Nyeu, in Boston.
He had stumbled on my website and seen, to his amazement, that someone not only knew about the threatened languages of the Hill Tracts but had actually carved them.
The Hill Tracts, a forested upland area in southeastern Bangladesh, are home to more than a dozen indigenous peoples who are distinct from the majority Bengali population in language, culture, and religion.
The region suffers from a wide range of difficulties, but Maung's primary interest, he told me, is in the linked issues of education and language endangerment.
Virtually all schools in the Chittagong Hill Tracts teach classes in Bangla (Bengali), the country's official national language. However, Bangla is not a language spoken in the Hill Tracts, and as a result the children's education is difficult, confusing, frustrating, and often futile. By second grade, 35% of students drop out, and that number jumps to 65% by fifth grade. Fewer than 2% finish their education.
Adding injury to insult, indigenous children are often abused by teachers and students from the country's largest ethnic group, Bengalis. Maung himself suffered mistreatment.
In a single generation, Maung said, he has seen his people go from living as self-sufficient farmers on ancestral lands to being vagrant day laborers scattered across Bangladesh and into India and Myanmar.
Remarkably, Maung managed to acquire enough of an education at home from his mother to get into boarding school, then earn a degree in engineering at the University of Hawaii, then an MBA from the University of Southern California.
The children at Padamu Residential Education Center
He returned to the Hill Tracts to work with community members to build the Padamu Residential Education Center, a school on the grounds of a Buddhist temple, so the children of the Hill Tracts could be educated in their own languages.
Classes began in 2008. Change was immediately apparent: Children who had seemed destined to be unskilled laborers announced their intention to be doctors and teachers. Since then, two more indigenous-language schools have been built by the local communities.
But most of the students could no longer read or write their own ethnic language.
So Maung came back to the U.S., to the Harvard Graduate School of Education, to learn how to create a culturally relevant curriculum that would revive the dying languages of the Hill Tracts.
At the nearby Massachusetts Institute of Technology, he sought out the advice of the philosopher and linguist Noam Chomsky.
"He was very kind and very attentive," Maung said. "His recommendation was that it is possible to preserve a language, but it needs to start with the children, preferably as part of their curriculum."
For Maung, a culturally relevant curriculum must be taught in the language the child speaks at home—the language the child is already learning and is using to find out about the world.
Also, the material being taught must be familiar. Maung remembered that at school he had to learn by heart William Wordsworth's poem "Daffodils."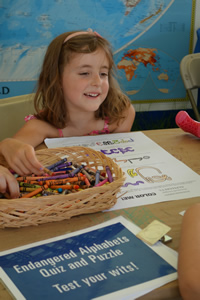 "I had never seen a daffodil!" he laughed. "I had no idea what it looked like. We have all sorts of plants and flowers, but I never saw a daffodil until I came to the United States!"
In order to create culturally relevant materials—and to reconnect children with their elders, and their cultural heritage—the children at Padamu collected more than 40 stories passed down in the villages of the Hill Tracts. The stories involve mountains and trees and animals the children already know—tales they may have heard from their parents and grandparents.
Maung is in the process of having them translated into Mro, Marma, and Chakma, writing them out, getting them illustrated in a visual idiom familiar to the children, and getting them published.
He faces an additional challenge. Most people in these groups still speak their traditional languages, but very few can now read and write their unique scripts.
That's where I came in.
In June 2012 Maung and I set up a partnership to publish children's books and other educational materials and, we hope, to help save the languages that sustain the cultures of the Hill Tracts.
I first hand-carved texts in each of the three languages, then recruited Jamie Kutner, a calligrapher in the M.F.A. program at Louisiana State University to take the handwritten forms of the scripts and turn them into works of art. Tom Sanalitro, a typographer at Anglia University in England, created specimen Mro and Marma font books, and Pooja Saxena, a typographer in India, is working to create child-friendly digital typefaces for the indigenous scripts.
Paul Ledak, a friend who owns a computer-controlled laser, burned texts into mahogany boards, and created rubber stamps so children can stamp out their letters.
Our rubber Endangered Alphabet stamps at the Smithsonian Folklife Festival, June 2013
This spring, publishing students of mine from Champlain College, in Burlington, Vermont, are helping to help edit, design, and illustrate the next four books bound for Padamu, and have them printed and shipped to Bangladesh.
Reversing the decline of a language is a Herculean task, and there are no guarantees that Maung will succeed.
"In medicine," Maung explained, "there is a window of time—maybe a few minutes to two hours, called the golden hour—where if the person can get to the ER, the chance of survival increases. For our children, their golden hour is between the ages of four or five and twelve. If we don't get them in school during this time, we won't get them at all."
To support our efforts to publish children's books in the indigenous languages of the Hill Tracts, please visit https://www.kickstarter.com/projects/1388900883/our-golden-hour.