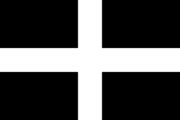 Today is St Piran's Day and a special day in Cornwall as Piran is regarded as the patron saint of Cornwall (and of tin miners), along with Saint Michael and Saint Petroc. Piran or Perran was an abbot of possibly Irish origin who lived in Cornwall in the early 6th century and later became a saint. His flag (see top right) is a symbol of Cornwall.
Here are a few Cornish phrases related to today (provided by Sam Brown)
– Goel Peran Lowen – Happy Saint Piran's Day;
Gŵyl Peran Llawen (Welsh); Gouel Peran laouenn (Breton)
– Dydh da ha goel Peran lowen dhis! = Hello and happy Saint Piran's day!
– A vynnydh ta pasti kernowek? = Would you like a Cornish pasty?
– Gwell yw genev pasti keus hag onyonenn = I'd prefer a cheese and onion pasty.
I haven't started learning Cornish yet, put have picked up odd bits and pieces of the language and can understand it to a limited extent thanks to my knowledge of Welsh and Breton.
Are any of you learning Cornish?