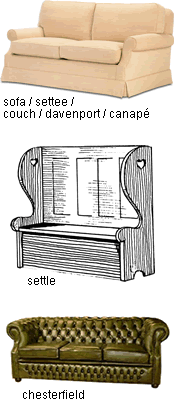 The other day I discovered that one French word for sofa is canapé (/kanape/), and that canapé-lit or canapé transformable/convertible is a sofa bed. The word sofa is also used in French, and canapé can also mean an open sandwich.
According to the OED, in English canapé (/ˈkænəpɪ/) can mean both "A piece of bread or toast, etc., on which small savouries are served." and "A sofa". I've never come across it used to mean sofa in English, and had always assumed that canapés were small items of food similar to tapas. I think such things are also known as appetisers or hors d'oeuvres.
Canapé comes from the Medieval Latin canāpēum, from canōpēum (mosquito curtains; pavilion, tent, bed), from the Latin cōnōpēum (seat with a baldaquin*), from the Ancient Greek κωνωπεῖον (kōnōpeion – an Egyptian bed or couch with mosquito curtains), from κάνωψ (kánōs – gnat, mosquito). In English the word came to mean mainly curtain or canopy, which comes from the same root, while in French and other Romance languages its primary meaning became sofa or couch.
Sofa /ˈsəʊfə/ probably arrived via the Turkish sofa from the Arabic صفة (súffa – a long seat made of stone or brick).
Settee /sɛˈtiː/ is probably a variant of settle /ˈsɛt(ə)l/, "a long bench, often with a high back and arms, with storage space underneath for linen." [source]. Settle comes from the Old English setl, from the Germanic *setlo-, from the pre-Germanic *sedlo-, from the Proto-Indo-European *sed-lo-, from *sed- (to sit).
Couch /kaʊtʃ/ comes from the French couche, from the Old French culche, which is cognate with coucher (to sleep), which comes from the Latin collocāre (to lay in its place, lay aright, lodge) from com- (together) and locāre (to place).
*Baldaquin /ˈbældəkɪn/ = "A structure in the form of a canopy, either supported on columns, suspended from the roof, or projecting from the wall, placed above an altar, throne, or door-way".
What do you call your a long padded seat designed for two or more people? If it can be converted into a bed, what do you call it?
For my parents such a piece of furniture is a settee, and I used to use this name as well. Now I usually call it a sofa. We also have a piece of furniture that came from my grandparents and that we call a settle – a long wooden seat with a high, straight wooden back, wooden arms and a narrow seat with a cushion on top. The seat also lifts up and we store board games inside.