One of the things we discussed last week in Ireland was placenames, or in Irish, logainmneacha [ˈl̪ˠʌɡanʲəmʲəxə]. Most places in Ireland have Irish names and English names, which are either Anglicized versions of the Irish names, or in a few cases, completely different names.
For example, the capital of Ireland is known as Dublin in English, and as Baile Átha Cliatha [bʲlʲɑː ˈclʲiə / ˌbʲlʲæː ˈclʲiə] in Irish. Other places with very different Irish and English forms include Loch Garman / Wexford, Cill Mhantáin / Wicklow, Port Láirge / Waterford and Binn Éadair / Howth.
Dublin comes from the Irish Dubhlinn (black/dark pool), and refers to a dark tidal pool where the River Poddle enters the River Liffy. There are other placenames in Ireland that come from the same root, including Devlin, Divlin and Difflin.
Baile Átha Cliatha means "town of the ford of the hurdles", and referred to a fording point of the River Liffey. Apparently the viking settlement in the Dublin area, founded in about 841 AD, was known as Dyflin, and the Gaelic town up the river was known as Átha Cliatha [source].
In some cases the English placenames are bad translations of the Irish originals. Examples include a suburb of Dublin known as Swords in English, but Sord (water source) in Irish – nothing to do with swords.
Vinegar Hill in County Wexford is Cnoc Fiodh na gCaor (Hill of the wood of the berries) in Irish – nothing to do with vinegar, but Fiodh na gCaor sounds like vinegar.
The word cnoc [kn̪ˠɔk / kɾˠʊk] (hill) appears in many placeanmes in Ireland, and is usually Anglicized as Knock. Examples include Knock (An Cnoc – 'The Hill'), Knockaderry (Cnoc an Doire – 'Hill of the Oak'), and Knockmealdown (Cnoc Mhaoldomhnaigh – 'Hill of Maoldomhnach').
Roundstone in Connemara is Cloch na Ron (Stone of the Seals) in Irish. Cloch does mean stone and ron does sound like round.
Many of the Anglicized forms of the names were coined by map makers who knew little or no Irish, and who wrote down names as they heard them.
More information about Irish placenames
https://en.wikipedia.org/wiki/Place_names_in_Ireland
https://www.logainm.ie/
https://www.dochara.com/the-irish/place-names/irish-place-names/
---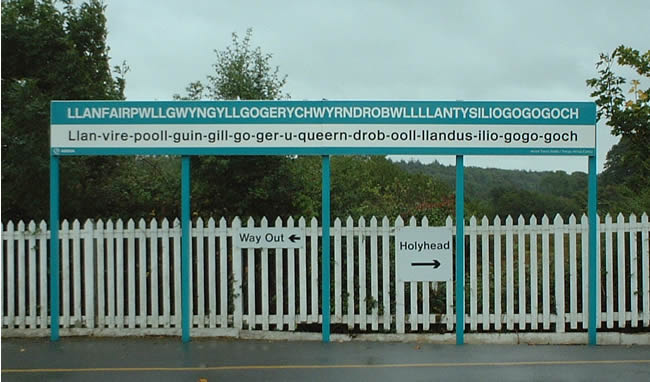 In Wales / Cymru, most placenames are in Welsh. Some have Anglicized versions, including Caerdydd / Cardiff, Caerfyrddyn / Carmarthen and Dinbych / Denbigh.
Some have different English and Welsh versions, including Abertawe / Swansea, Abergwaun / Fishguard and Ynys Môn / Anglesey. In all these examples, the English name actually comes from Old Norse:
Swansea from Sveinsey (Sveinn's island) [source]
Anglesey from Ongullsey (Hook island) or Onglisey (Ongli's Island) [source]
Fishguard from Fiskigarðr (fish catching enclosure) [source].
More information about Irish placenames
https://en.wikipedia.org/wiki/Welsh_toponymy
http://www.thefullwiki.org/Welsh_placenames