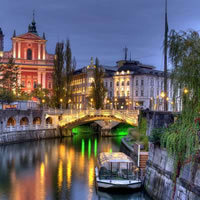 Yesterday I started learning Slovenian (slovenščina) in preparation for the Polyglot Conference in Ljubljana in Slovenia in October. I always try to learn at least a little of any languages I'm likely to encounter on my travels – it's only polite.
I'm using a Memrise course, and may use other resources – if you have any suggestions, do let me know.
A few years ago I went to a polyglot conference in Novi Sad in Serbia, and learnt some Serbian before going there. Slovenian seems to have a lot in common with Serbian, so far.
There was a lass from Ljubljana learning Irish in Ireland last week, and she taught me a few useful Slovenian phrases.