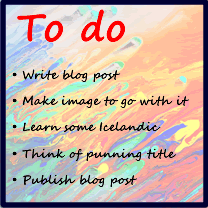 Lists might be considered art, and there was an exhibition of lists made by famous artists some years ago.
In Iceland art is a list – the Icelandic word of art is list. In Old Icelandic it also meant "craft, skill, adroitness, dexterity" [source].
Related words include:
lista- = artistic
listamaður = artist
listaverk = work of art
listflutningur = live performance
listhús = art gallery
listmunur = artefact
listvefnaður = tapestry
[Source]
Incidently, a list in Icelandic is listi or skrá. Art in Danish and Norwegian is kunst, and it's konst in Swedish.