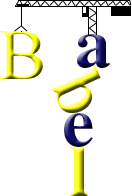 The Tower of Babel (Genesis 11: 1-9)
kajin m̧ajeļ (Marshallese)
Mweo Eutiej ilo Babylon
2000 version
Mokta, armij otemjej ilõl rar konono kin juõn wõt kajin im nan ko air reinwõt juõn ijoko otemjej.
Ke rar emmakit talok, rar itok ñõn juõn jikin emmõn biken ilo Babylonia im rar jokwe ie.
Rar ba ñõn dron, "Komin itok! Jen iiõk birõk im kõmmõni bwe ren bin." Innem ear wor air birõk in ekkal, im bij in kaddrebi ibben dron.
Rar ba, "Kiõ, jen kalek juõn jikin kwelok im juõn em utiej eo enaj tõbar kõdro ko, innem etad enaj buñbuñ im jejamin ejjeblõklõk iaoleben lõl."
Innem IROIJ ear wõnlõltak bwe en lale jikin kwelok eo im mweo eutiej armij ro rar kaleke,
im ear ba, "Kiõ armij rein juõn wõt im rej konono kin juõn wõt kajin, im ej kab jinoin in, ak tokelik enaj lablok men ko renaj kõmmõni. Ejjab etto im remarõn kõmmõni jabdrewõt men ko rekõnan.
Kin men in, jen wõnlõllok im bukoj kajin eo air bwe ren jab melele en dron konono."
Innem IROIJ ear kejjeblõklõk ir otemjej iaoleben lõl, im ar bwijrak air kalek jikin kwelok eo.
Etan jikin kwelok eo Babylon, * kinke IROIJ ear bukoj kajin ea an armij otemjeje ie, im jen ijo ear kejjeblõklõk ir iaoleben lõl.
* Babylon: Enañin ein ba nan in ilo kajin Hebrew wõt "buk".
Source: Jeje Ko Rekkwojarjar. Kallimur Mokta Kab Kallimur Ekãl. Nan Ko Remmõn ñõn Armij Otemjej. Bible in Marshallese. United Bible Societies, 2000.
2009 version
Im aolepen laḷ kōnono wōt juon, im juon wōt ainikier.
Im tokālik, ke raar itaḷọk, raar lo jimattan āne pikin wōt juon, ilo āneen Shainar, im raar jokwe ijo.
Im raar ba ñan doon, "Itok, jen kōṃanṃan brik, im kanooj kōmatte." Im raar kōjerbal brik āinwōt dekā, im pitch raar kōjerbale āinwōt cement.
Im raar ba, "Itok, jen kalōk ad jikin kweilọk, im juon eṃ e utiej ñan lañ, im jen kabuñbuñ etad, bwe jen jab jeplōklōk ioon mejān aolepen laḷ."
Im Jeova ear wanlaḷtok im lale jikin kweilọk eo im ṃweo e utiej me ro nejin armej raar kalōk e.
Im Jeova ear ba, "Lo, armej rein būrueir wōt juon, im er otemjej juon wōt aer kōnono, im men in jinoin aer kōṃṃan; im kiiō ejjeḷọk men in bōbrae er jān men otemjej rej pepe in kōṃṃan.
Itok, Jen wanlaḷḷọk, im ukōt aer kōnono, bwe ren jab meḷeḷe kake naan ko an doon."
Āindein Jeova ear kajeplōklōk er jān ijo ioon aolepen mejān laḷ, im e jako aer kalōk jikin kweilọk eo.
Kōn men in raar likūt etan Bebel, bwe ijo Jeova ear kajjo aer kōnono i aolepen laḷ; im jān ijo Jeova ear kajeplōklōk er ioon aolepen mejān laḷ.
Source: Jenesis. The Bible in Marshallese, 2009.
Contributed by Wolfgang Kuhl
Information about Marshallese | Phrases | Numbers | Tower of Babel
Tower of Babel in Micronesian languages
Chuukese, Kiribati, Kosraean, Marshallese, Mortlockese, Pohnpeian, Yapese
Other Tower of Babel translations
By language | By language family
[top]
---

Why not share this page:

If you like this site and find it useful, you can support it by making a donation via PayPal or Patreon, or by contributing in other ways. Omniglot is how I make my living.
Note: all links on this site to Amazon.com
, Amazon.co.uk
and Amazon.fr
are affiliate links. This means I earn a commission if you click on any of them and buy something. So by clicking on these links you can help to support this site.
Get a 30-day Free Trial of Amazon Prime (UK)
If you're looking for home or car insurance in the UK, why not try Policy Expert?
[top]