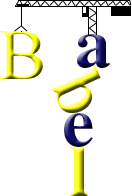 The Tower of Babel (Genesis 11: 1-9)
ქართული (Georgian)
ერთი ენა ჰქონდათ და ერთნაირად მეტყველებდნენ მთელ დედამიწაზე.
როცა აღმოსავლეთით მიემართებოდნენ, შინარის მიწაზე ველი იპოვეს და იქ დასახლდნენ.
ერთმანეთს უთხრეს: "მოდი, აგურები გავაკეთოთ და გამოვწვათ". ქვის მაგივრად აგური გამოიყენეს და დუღაბის მაგივრად – ფისი.
შემდეგ თქვეს: "მოდი, ავიშენოთ ქალაქი და კოშკი, ცას რომ მისწვდეს, და სახელი გავითქვათ, რათა არ გავიფანტოთ მთელი დედამიწის ზურგზე".
ჩავიდა იეჰოვა ქალაქისა და კოშკის სანახავად, რომლებსაც ადამიანთა ძეები აშენებდნენ.
თქვა იეჰოვამ: "ერთი ხალხია, ყველას ერთი ენა აქვს და, აი, რისი გაქეთება წამოიწყეს. რასაც განიზრახავენ, ყველაფერს გაკეთება.
მოდი, ჩავიდეთ და ენა ავურიოთ, რომ ერთმანეთის ენა აღარ ესმოდეთ".
გაფანტა იეჰოვამ ისინი მთელი დედამიწის ზურგზე და მიატოვეს მათ ქალაქის მშენებლობა.
ამიტომაც ეწოდა მას ბაბილონი, რადგან იქ აურია იეჰოვამ მათ ენა, რომელზეც მთელ დედამიწაზე ლაპარაკობდნენ, და გაფანტა იეჰოვამ ისინი მთელი დედამიწის ზურგზე.
From: ბიბლია – ახალი ქვეყნიერების თარგმანი
Transliteration
erti ena hkondat da ertnairad met'qvelebdnen mtel dedamits'aze.
rotsa aghmosavletit miemartebodnen, shinaris mits'aze veli ip'oves da ik dasakhldnen.
ertmanets utkhres: "modi, agurebi gavak'etot da gamovts'vat". kvis magivrad aguri gamoiqenes da dughabis magivrad – pisi.
shemdeg tkves: "modi, avishenot kalaki da k'oshk'i, tsas rom mists'vdes, da sakheli gavitkvat, rata ar gavipant'ot mteli dedamits'is zurgze".
chavida iehova kalakisa da k'oshk'is sanakhavad, romlebsats adamianta dzeebi ashenebdnen.
tkva iehovam: "erti khalkhia, qvelas erti ena akvs da, ai, risi gaketeba ts'amoits'qes. rasats ganizrakhaven, qvelapers gak'eteba.
modi, chavidet da ena avuriot, rom ertmanetis ena aghar esmodet".
gapant'a iehovam isini mteli dedamits'is zurgze da miat'oves mat kalakis mshenebloba.
amit'omats ets'oda mas babiloni, radgan ik auria iehovam mat ena, romelzets mtel dedamits'aze lap'arak'obdnen, da gapant'a iehovam isini mteli dedamits'is zurgze.
From: biblia – akhali kveqnierebis targmani
Information about Georgian | Phrases | Numbers | Tower of Babel | Songs | Learning materials
Georgian alphabet game
Learn Georgian Alphabet Now
Tower of Babel in South Caucasian languages
Other Tower of Babel translations
By language | By language family
---
If you need to type in many different languages, the Q International Keyboard can help. It enables you to type almost any language that uses the Latin, Cyrillic or Greek alphabets, and is free.
If you like this site and find it useful, you can support it by making a donation via PayPal or Patreon, or by contributing in other ways. Omniglot is how I make my living.
Note: all links on this site to Amazon.com
, Amazon.co.uk
and Amazon.fr
are affiliate links. This means I earn a commission if you click on any of them and buy something. So by clicking on these links you can help to support this site.