How To Succeed At Teaching P. R. China University Academe – Without Really Trying
by Clair Lasater, Ph. D.
It's supply and demand. These days, and for several years now, it is almost impossible for any native-English speaking, bachelor's degree graduate, who applies, to not be hired. This is to teach college or university, in the People's Republic of China. I know from experience. Just recently, I held forth, sixteen-hours-per-week, for ten years, at such schools as Hainan University, Shunde Polytechnic, and Maoming University. China quite desperately needs teachers, lecturers, professors, who speak English fluently.
The pay is good, and the perquisites are such as will not be found in the West. Perks, for example, include a free personal furnished apartment, with internet hook-up, a desk-top computer to use, telephone, color television, and, an oven and refrigerator equipped kitchen, with pots, pans, utensils and dishes. Another advantage of this unlikely employment opportunity is early C. V. enhancement. In three to four years, a new academic's curriculum vitae, should better that of his or her valedictorian's.
English, these days has supplanted French as planet Earth's international language. Therefore, residents of almost all non-English-speaking countries make haste, to acquire this newly dominant tongue. A phenomenon employment break called TEFL – Teaching English as a Foreign Language – provides multitudinous jobs. China is hiring big at all levels, including tertiary.
As a result of this recent endemic English-language learning craze, three- and four-year bachelor's graduates may now lecture, (obtaining the same generous perquisites noted above), in P. R. C. colleges and universities. Adequate salary is provided.
A very simple internet-posted C.V., (placed, say, on the ESL Teachers Board site, or Dave's ESL Cafe), should bring two, three, or four almost immediate legitimate offers, from colleges and universities. Job seekers who utilize these sites should identify P. R. China as their target country. (NOTE: The very first replies received will almost surely be from entrepreneur recruiters. First-time China university job hunters should deal with the schools only, not recruiters. Such applicants should make certain that any offers to which they reply, come directly from college or university offices.)
On the ESL Teachers Board site, an applicant may post an informal portrait photograph, as well. Applicants might also e-mail a C. V. to FAO, (Foreign Affairs Offices), or, International Offices of colleges and universities. Addresses of these work places can be found on the internet sites of the schools.
The usual subject taught is what the Chinese university administrators call, Oral English. This course is essentially a most thorough conversational English study. Eschewing the use of a textbook, I utilized secular proverbs, Western popular music from the Sixties, Aesop's Fables, model sentences for my topic of the week, and a one-page hand-out that contained, as well, original internet-generated, self-composed, relevant crossword, and, or, word search puzzles. I also read my classes wacky, yet true, English-language news articles, that I found on the web.
The fifty or fifty-five minute sessions run back to back, for each group of students a lecturer faces. The best procedure I found to work this course is to teach the handout, the first "hour," then, (after the requisite break), the second fifty-or-so minutes, require each student to deliver a little speech, on a fun, one-sentence topic I wrote on the blackboard.
I used this unique "little speeches" approach, to beat a recurring, school after school, province after province, insistence that the students sit in groups of three and four, the second session, and converse with each other in English. This might work in conference table size classes. However, In P. R. C. university classes, numbering just over forty students, an instructor cannot adequately listen in on each of eleven or twelve groups. Therefore, because students will be students, use of this method results in a "sit around and practice your Chinese," exercise, rather than the desired rehearsal of English.
An incidental blessing attained from utilization of this second-hour "little speeches" device is great facilitation for providing individual grades, (marks) for each of the 350 or so students. (Eight groups – Approximately one-half of each group speaks one week, The second half, the next week. Week after week.). I recorded, each week, a percentage evaluation of each talk given. At the close of each term I could then crunch these numbers, to obtain a fair evaluation for each scholar.
The End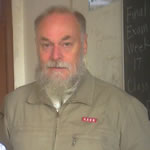 About the writer
Clair Lasater, Ph. D. lectured Spoken English, Western Culture, and English Composition, in the People's Republic of China, for ten years. He is published in the Guardian, The Telegraph, China Daily, The Times of India, Omniglot, and others. Dr. Lasater is a graduate of Ancilla Domini College, (Donaldson, Indiana), Indiana University, Indiana Christian University, and state-approved Northwestern Theological Seminary, Florida.
Articles by Clair Lasater
Writing systems | Language and languages | Language learning | Pronunciation | Learning vocabulary | Language acquisition | Motivation and reasons to learn languages | Arabic | Basque | Celtic languages | Chinese | English | Esperanto | French | German | Greek | Hebrew | Indonesian | Italian | Japanese | Korean | Latin | Portuguese | Russian | Sign Languages | Spanish | Swedish | Other languages | Minority and endangered languages | Constructed languages (conlangs) | Reviews of language courses and books | Language learning apps | Teaching languages | Languages and careers | Being and becoming bilingual | Language and culture | Language development and disorders | Translation and interpreting | Multilingual websites, databases and coding | History | Travel | Food | Other topics | Spoof articles | How to submit an article
[top]
---

Why not share this page:

If you like this site and find it useful, you can support it by making a donation via PayPal or Patreon, or by contributing in other ways. Omniglot is how I make my living.
Note: all links on this site to Amazon.com
, Amazon.co.uk
and Amazon.fr
are affiliate links. This means I earn a commission if you click on any of them and buy something. So by clicking on these links you can help to support this site.
Get a 30-day Free Trial of Amazon Prime (UK)
If you're looking for home or car insurance in the UK, why not try Policy Expert?
[top]