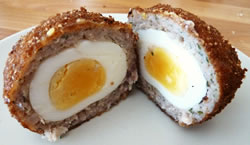 Yesterday I discovered an interesting French word: paner, which means to coat with breadcrumbs or to bread.
So a Scotch Egg, which is a hard boiled egg wrapped in sausage meat, breaded and deep fried, can be described as a œuf dur enrobé de chair à saucisse et pané in French – it sounds better in French, although it's not something you'd find in France or other French-speaking regions, as far as I know.
Restaurants in the UK often use French names and descriptions for dishes as they sound better and more sophisticated than their English equivalents. Do restaurants in other countries do this?
Would you rather have toad-in-the-hole or saucisses cuites au four dans de la pâte à crêpes?
Or how about pudding aux raisins instead of spotted dick?