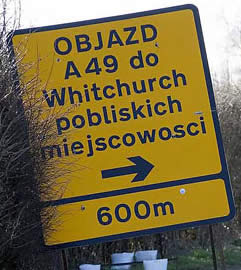 Where might you see a sign like the one on the right?
The answer, according to an article I found last week, is in Cheshire, England. The sign reads "DIVERSION A49 for Whitchurch and nearby places" and was erected by the Cheshire County Council, who claim that it is needed due to the large numbers of Polish people in the area.
The local police have received many complaints about Polish drivers getting lost and disrupting traffic, and the council believe the signs are a practical measure to improve road safety. Other people complain that the signs are a case of the council "pandering to political correctness", and the local
is quoted as saying that the signs are "It's absolutely bonkers".