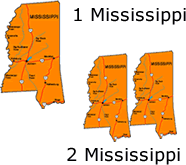 If you need or want to count in seconds, do you put a words between the numbers? For example 1 [word], 2 [word], 3 [word] etc.
I usually use Mississippi as the in-between word, but have tried others, such as elephant and hippopotamus. Elephant doesn't really work as it doesn't have enough syllables, but hippopotamus works well.
I remember seeing television programmes involving parachuting in which people count 1 thousand, 2 thousand, and so on before opening their parachute.
Another alternative is Piccadilly, according to this video:
There are various places named Piccadilly in England, including a street in central London, an area of Manchester, and a hamlet in Warwickshire, and also places in Australia and Canada.
What in-between word do you use (if any) in English or other languages?