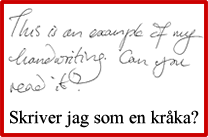 If your handwriting is difficult to read, you apparently write like a crow, at least you do in Swedish – skriva som en kråka.
That's one of things I discovered today when putting together a new page of Swedish idioms.
If your spelling is poor, you spell like a crow – stava som en kråka.
Why is this? Are crows known for their poor writing and spelling in Sweden?
I found "to have (hand)writing like chicken scratch" in English [source], though haven't come across it before.
Are there equivalent idioms in other langauges?
The image is an example of my handwriting. I can write more neatly than this, though rarely write by hand these days anyway.