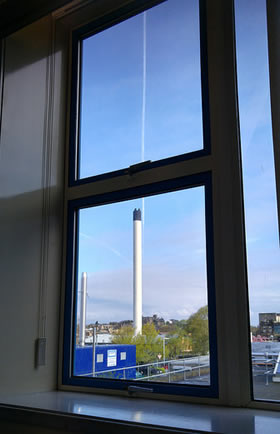 After being discharged from St Mary's Hospital yesterday, I took a taxi to Euston, with a Somali driver. I managed to get myself to the ticket hall and bought a ticket. Then asked for assistance to get to the train – I can't put any weight on my broken ankle at the moment so have to hop everywhere with the crutches, which is tiring and tricky, especially up and down steps. Fortunately there was a train in the station and I only had to wait about 5 minutes before it left.
It was a direct train and took about three hours to get to Lancaster. I just sat, looked out of the window, dozed off a bit, and eavesdropped on the conversations around me. There was a family in front of me who were speaking in a mixture of English and maybe a language from India – I don't know which one. Behind me were a Russian-sounding mother and son who spoke mainly in English, but the mother occasionally slipped into Russian.
My mum met me at Lancaster station and took me to the local hospital – Lancaster Royal Infirmary, which is just down the road from where I went to school. We waited for quite a while, saw various doctors and nurses, I had some more x-rays, then they decided to admit me rather than letting me go home and come back in a few days. We waited some more while they found me a bed.
This morning they told me that they won't be able to operate on my ankle until tomorrow, so I've been taking it easy, doing a bit of work, listening to podcasts and snoozing. My mum came to visit this afternoon and brought me some grapes, awfully clichéd I know, but nice and tasty.
This hospital is a lot less multilingual than St Mary's in London. So far the only language I've heard here is English, mainly with a Lancashire accent. I've found myself speaking with a bit of Lancashire accent as well. Even though I grew up in this area, I never had much of a local accent. However it sounds familiar and pleasant to my ears, and comes easily to my tongue.