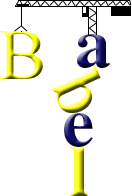 The Tower of Babel (Genesis 11: 1-9)
Nunggubuyu (Wubuy)
Anaarrawindi ana-lhaagi
Anubani-yumbaa, warraawurru-yung warra-wurru-wurruj aynjaabugij ana-lhaagi wuu-yambini. Wuu-yambini dani-yung-bugij.
Warraawurru-yung wurru-yanggi yaanuwuy ramaliyaj. Wirri-lhangarrmayn lhal a-wumayamaya-rruj. Anaani wu-mayini ana-lhal, Shinar. Nga bagu waadurru-yung wurru-burri.
Wuu-yambiynjini anubagu, "Gurruwaj, ngagurru ngaani-mani marri ngaani-dhurrmana arrmaṉngal, ngaanggaaban-baḻii yadhu, ngaanggu-nangana," wurru-yamayn. Anubanila-wala, wirri-maṉdhangi arrmaṉngal-wala, nguynju wu-yamaa a-brick-jii, waari yamba anubagu maaynjaari mana-ṉuga. Wuu-rigandi aban-maṉḏuj-maṉḏuj wirriiban-dhangarrmayn. Wu-yamaa nguynju acement-jii.
Wurru-yamayn "Numburraaṉiyn ngaanggu-maṉdhii runggal wumurrng, ngagurraa yungguyung. Marri ngaanggu-maṉdhii yuuguni arrwiyaj-bindiyung anggu-yaarri marri ambarr-yarrdang ana-tower yuwaagu-windiyung arrwar. Nguynju yadhu ngagurri-nyinyung ana-muwaj anggu-mayina anggu-runggal. Nguynju yadhu yagi yungguyung nguu-rajaarri anuguni ana-lhal-aynbaj ana-lhal, yaaji-wugij ngaambu-burraa ngaambu-muṉḏugana." Dani-yung wurru-yamayn.
Na-Yawei na-God ni-dhirridangi, ni-warranggayn, niwu-nani wubani a-wumurrng marri wubani-yung wugambarr niwu-nani.
Ni-yamayn, "Yigaj, warraawurru wurru-manda-galiynjina," ni-yamijgini, "Wuu-yambina aynjaabugij yamba ana-lhaagi. Anaani aynjaabugij wirri-maṉdhangi ana-wulhu-wulhurr ana-wumurrng. Bagala marri, ambirri-maṉdhii ambirri-runggal-wana. Anubani-yung-maynji amburru-wijangayii, marri bani-yung amburru-waṉbina.
Anaani ngaynjaminggarrina? Nga-ngu-dhirridang, ngambaa-gaynbijgang ana-lhaagi, nguynju yadhu yagi yungguyung wurraajangaynji ana-lhaagi." Dani-yung ni-yamaa na-Yawei na-God.
Anubanila-wala wani-rajaarrijgayn. Anubani waari aḏaba ambirri-maṉdhangi ana-wumurrng.
Anubani-yung ana-wumurrng wu-mayini Babel, anaani wiijamana, na-God wani-gaynbijgayn anubani ana-lhaagi, warraarrawindi-lhangu-yinyung warra-wurru-wurruj. Na-Yawei anubanila-wala, wani-rajaarrijgayn aḏaba, wuu-manda-ḏajaarriyn, wuu-ngarra-janggi a-lhal-wuy yuuguni yaanuwuy, wuu-ngarra-janggi.
Source: http://aboriginalbibles.org.au/Wubuy/frame_GEN11.htm
Contributed by Wolfgang Kuhl
Nunggubuyu is an Arnhem language spoken mainly in the community of Numbulwar in the Northern Territory in Australia.
More information about Nunggubuyu
http://en.wikipedia.org/wiki/Nunggubuyu_language
https://www.ethnologue.com/language/nuy
Tower of Babel in Arnhem languages
Anindilyakwa, Bininj Gun-Wok, Nunggubuyu
Other Tower of Babel translations
By language | By language family
[top]
---

Why not share this page:

If you like this site and find it useful, you can support it by making a donation via PayPal or Patreon, or by contributing in other ways. Omniglot is how I make my living.
Note: all links on this site to Amazon.com
, Amazon.co.uk
and Amazon.fr
are affiliate links. This means I earn a commission if you click on any of them and buy something. So by clicking on these links you can help to support this site.
Get a 30-day Free Trial of Amazon Prime (UK)
If you're looking for home or car insurance in the UK, why not try Policy Expert?
[top]