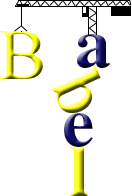 The Tower of Babel (Genesis 11: 1-9)
Maale
ባብሎኔ ካታሞይዳ ዓጮ ዺንቂ ማዦና ዼጌ ቤዞ
ቤርታዺ ሳዖይዳ ዓኣ ዴሮኮ ጌስቶ ሙኡጫ ፔቴ ሌሊኬ፤
ዓባ ኬስካ ባንፆ ዓሳ * ዓኣዼ ዎዶና ባብሎኔ ዓጮይዳ ፔቴ ቦኦሊ ዴንቃዖ ዒኢካ ዴዔኔ።
ዬይ ዓሳ ዎሊ ኮራ፦ «ዔዛታ! ሃኒ ሙኩዋቴ፤ ኮጬ ዼጊሲ ማዦንዶ ዓጪ ዺንቂ ዶዳንዳጉዲ ታሚና ሚቺ ኑ ኪላሶም» ጋዓዖ ማዦንዶ ባኮዋ ጊኢጊሺ ዎላ ዓይሣንዳ ሺዲ ጉዴ ባኣዚያኣ ዴንቄኔ።
ዬካፓ ዔያታ፦ «ሃኒ ዬዑዋቴ፤ ፔቴ ካታማ ኑኡኒ ማዦም፤ ሃሣ ቶኦካ ጫሪንጮ ሄላንዳ ዼጌ ቤሲ ዺንቂንቴ ዓጮና ኑኡኒ ማዦም፤ ዬያይዲ ሳዖ ቢያይዳ ኑኡኒ ላኣሊንቲ ዴንዱዋዖ ፔቴይዳ ዴዖም፤ ሃሣ ሱንሢያ ኑ ዔኮም» ጌዔኔ።
ዬካፓ ናንጊና ናንጋ ጎዳ ዓሳ ማዤ ካታሞንታ ዼጌ ቤዞዋ ዛጋኒ ኬዴኔ፤
ዒዚ ሂዚ ጌዔኔ፦ «ሃይሾ ሃይ ዴራ ፔቴ ፃጲኬ፤ ጌስቶ ዻንጋኣ ዔያቶኮ ፔቴኬ፤ ሃያ ባኮ ዔያታ ማዼያፓዓቴም ሃካፓ ሴካ ዔያታ ማሌ ባኣዚ ቢያ ማዻኒ ዔያቶ ባሹዋያኬ፤
ዬያሮ ሃኒ ዬዑዋቴ፥ ኑኡኒ ኬዲ ዔያታ ዎሊና ቡኩዋጉዲ ሙኡጮ ዔቶኮ ኑ ሲኢሮም።»
ዬካፓ ናንጊና ናንጋ ጎዳ ዓጮ ቢያይዳ ዔያቶ ዜርቄሢሮ ካታሜሎ ማዢፆ ዓሳ ሃሼኔ፤
ካታሜሎኮዋ ሱንፃ «ባብሎኔ»† ጌይንቴኔ፤ ዓይጎሮ ጌዔቴ ዒኢካ ፆኦሲ ዴሮኮ ሙኡጮ ሲኢሬሢሮና ዔያቶዋ ዓጮ ቢያይዳ ላኣሌሢሮኬ።
11:9 ባብሎኔ ጌይፃ፦ ዔብሬ ዓሶ ሙኡቺና ዑኡዛ ዋይዚንታ ዎዶና «ሲኢሪሢ» ጌይሢ ማላያኬ
Maale, or Male, is a North Omotic language spoken in parts of Ethiopia.
Information about Maale
https://en.wikipedia.org/wiki/Maale_language
https://www.ethnologue.com/language/mdy
Tower of Babel in Omotic languages
Other Tower of Babel translations
By language | By language family
[top]
---

Why not share this page:
Learn languages for free on Duolingo

If you like this site and find it useful, you can support it by making a donation via PayPal or Patreon, or by contributing in other ways. Omniglot is how I make my living.
Note: all links on this site to Amazon.com
, Amazon.co.uk
and Amazon.fr
are affiliate links. This means I earn a commission if you click on any of them and buy something. So by clicking on these links you can help to support this site.
[top]