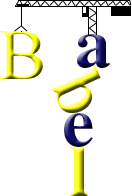 The Tower of Babel (Genesis 11: 1-9)
Dawan (Uab Meto)
Ma nbin pah-pinan nobamesen, ala uab mesê ma tekas mesê es mapakê.
Es onane sin natbokan neu neonsaet ma nít naijamnesat nbin pah Sinear, ma sin natuan nabala nbin nae.
Ma sin nak es neu es: "Aim he tmoê fatumtasâ ma tout sin leko-leko.' Ma sin a-npaek fatumtasâ nane on fatu ma haulitê on naijamakâliät.
Okemsat sin nak: "Aim he tahakeb tan kota-es nok 'tolfatu mesê lê namnaun ma in tunan ntea neno-tunan; ma aim he tânaeb hit kanak, henait hit kaisâ tauf-tasanök teu pah-pinan ok-okê.'
Okete Uis-Neno nsaun he nkios kota ma 'tolfatu lê liänmansian-sin nahakeb,
ma In nakua aän nak: "Sin ok-okê tokaüf mesê ma namolok uab mesê. Sin mepu i fê naübon; nmulai nâko oras i sâ-sâ lê a-njail sin salit, lof natisbon natuin sin lomit.
Neu aim he tsaun he tasulib sin uab, henait sin ka nahín fa es-es in molok.'
Es onane, Uis-Neno nbait-nasanâ sin nâko bale nane neu pah-pinan nfunamnatéf, ma sin ka nahakeb nan fa kota nane.
Fun onane talantea munî i kota nane matekâ nak Babel, fun nbin bale nane Uis-Neno nasulib uab pah-pinan ok-okê ma nâko nane msat Uis-Neno nbait-nasanâ sin neu pah-pinan nfunamnatéf.
Source: http://ymanhitu.blogspot.com/2007/04/tolfatu-babel-tower-of-babel-genesis-11.html
Information about Dawan | Tower of Babel in Dawan
Tower of Babel in Malayo-Polynesian languages
Acehnese, Adzera, Amarasi, Ambrym, Anuki, Are, Balinese, Bambam, Bariai, Batak Angkola, Batak Simalungun, Batak Toba, Biatah Bidayuh, Bola, Bugis, Bwaidoka, Caribbean Javanese, Dawan, Fijian, Helong, Hiri Motu, Iban, Indonesian, Jarai, Kadazandusun, Kahua, Kakabai, Kambera, Kaninuwa, Kenyah, Kurti, Javanese, Luang, Madurese, Makassar, Malagasy, Malay, Mbula, Misima-Paneati, Motu, Nali, Ngaju, Nias, North Efate, Nyindrou, Paama, Palawano, Rade, Rotuman, Saveeng Tuam, Suau, Sundanese, Timugon Murut, Tolai, Tontemboan, Toraja-Sa'dan, Tungag, Ubir, Wandamen, Yabem
Other Tower of Babel translations
By language | By language family
[top]
---

Why not share this page:
Learn languages for free on Duolingo

If you like this site and find it useful, you can support it by making a donation via PayPal or Patreon, or by contributing in other ways. Omniglot is how I make my living.
Note: all links on this site to Amazon.com
, Amazon.co.uk
and Amazon.fr
are affiliate links. This means I earn a commission if you click on any of them and buy something. So by clicking on these links you can help to support this site.
[top]