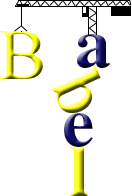 The Tower of Babel (Genesis 11: 1-9)
Central Aymara (1997 edition)
Qhä tiemponsti take jakesa mä casta parlaniquïnwa.
Cunapachatejj inti jalsu toket mistunipjjäna ucapachajj, Sinar sisqui ucsa token mä pampa orake jicjjatapjjäna, ucatsti ucanwa jacapjjäna.
Mä urusti jupanaccamaw parlt'asipjjäna aqham sasa: "Ladrillonac lurañäni, ucatsti ninaruw phichsuñäni" sasa. Uqhamwa ladrillonaca apnakjjapjjäna kalanac lantjja, ucatsti mezcla lantjja asfalto apnakjjapjjaraquïna.
Ucatsti sapjjaraquïnwa: "Jutapjjam, jichhajj mä jach'a marca sayt'ayañäni, uqhamarac torrepas alajjpachar puriñcama lurasipjjañäni. Uqhamatwa takeninsa uñt'atäñäni, ucatsti janiraquiw take aca orakpacharu aywitatcañäniti" sasa.
Ucampisa Tatitu Diosajj uca marca, uqhamarac cuna torrtejj lurasipcän uca uñjiriw sarakanïna,
ucatsti saraquïnwa: "Jupanacajj mä sapa marcaquïpjjewa, mä sapa arucwa parlapjjaraqui, ucatpï aca lurañjja kalltapjjejja, jichhasti jupanacajj janiw uca lurañjja apanucupcaspati.
Parlanacap mayjt'ayir jichhajj sarakañäni, uqhamat jan jupanaccama cuna parlatanacapsa amuyasipjjañapataqui" sasa.
Uqhamwa Tatitu Diosajj take acapacharu anatatäna, ucatsti jupanacajj uca marca lurañsa apanucjjapjjaquiraquïnwa.
Uca chekanwa Tatitojj take jakenacan parlanacapjja mayjt'ayjjäna, uca chekatwa jakenacjja aca orakpachar ananucjjäna. Ucatwa uca chekajj
Source: La Biblia en lengua Aymara. Sociedades Biblicas Unidas. United Bible Societies, 1997.
Central Aymara (2011 edition)
Khä urunakansti taqi jaqisa mä laxraki parlapxäna.
Kunapachatix jaqinakax inti jalsu tuqit mistunipkän ukapachaxa, Babilonia uraqin mä qhirwa uraqi jikxatapxäna, ukatsti ukan jakiriw qhiparapxäna.
Mä urusti jupanakkamaw aruskipasipxäna akham sasa: "Ladrillonak lurañäni, ukatsti ninaruw phichsuñäni" sasa. Ukhamat ladrillonakxa qalanak lanti apnaqapxäna, mezcla lantsti asfalto apnaqapxarakïna.
Ukatsti sapxarakïnwa: "Jutapxam, jichhax mä jach'a marka sayt'ayañäni, torrepas alaxpachar puriñapkama lurapxañäni. Ukhamat taqininsa jach'at uñt'atäñäni, ukatsti janirakiw taqi aka uraqpacharux aywitatkañäniti" sasa,
Ukampisa Tatitux uka marka uñjiriw saraqanïna, ukhamarak jaqinakan torre lurasipkatap uñjiri,
ukatsti sänwa: "Jupanakax mä sapa markakïpxiwa, mä sapa laxrak parlapxaraki, ukatpï uka lurañ qalltapxixa, jichhasti jupanakarux janiw kunas uk lurañ jark'kaspati.
Ukhamasti parlanakap mayjt'ayir saraqañäni, ukhamat jupanakkama jan kuna parlatanakapsa amuyasipxañapataki" sasa.
Tatitusti ukhamwa taqi aka uraqpacharu jaqinakar ananuküna, ukatsti jupanakax uka marka lurañsa apanukxapxarakïnwa.
Uka chiqanwa Tatit Diosax taqi jaqinakan parlanakap mayjt'ayxäna, uka chiqatwa jaqinakarux aka uraqpachar ananukxäna. Ukat uka markax
Source: La Biblia en lengua Aymara. Sociedad Biblica Boliviana, 2011.
Contributed by Wolfgang Kuhl
Information about Aymara | Phrases | Numbers | Tower of Babel
Other Tower of Babel translations
By language | By language family
---
If you need to type in many different languages, the Q International Keyboard can help. It enables you to type almost any language that uses the Latin, Cyrillic or Greek alphabets, and is free.
If you like this site and find it useful, you can support it by making a donation via PayPal or Patreon, or by contributing in other ways. Omniglot is how I make my living.
Note: all links on this site to Amazon.com
, Amazon.co.uk
and Amazon.fr
are affiliate links. This means I earn a commission if you click on any of them and buy something. So by clicking on these links you can help to support this site.