Kaingang (kanhgág)
Kaingang is spoken in the Brazilian states of São Paulo, Paraná, Santa Catarina and Rio Grande do Sul. It is a member of the Macro-Gê or Gê family of languages. There were 18,000 Kaingang speakers in 1989. Other Kaingang people, who number about 30,000 in total, speak Portuguese. Alternative names for this language include Kaingáng and Caingangue.
A school to teach the Kaingang people to read and write their own language was set up in 1969. Since then it has trained a number of Kaingang as teachers, who have gone back to their reservations and taught others to read and write. This has helped give the Kaingang a pride in their language and themselves.
There are at least four different dialects of Kaingang, one of which is used as the standard written form. A Kaingang translation of the Bible was published in 1977, and there is also a dictionary and a number of other publications in Kaingang.
Kaingang pronunciation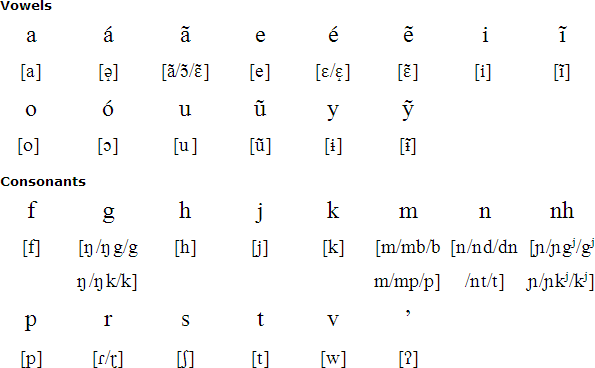 Notes
The five different pronunciations of g, m, n and nh apply as follows:
before and after nasal vowels
before oral vowels
after oral vowels
after nasal vowels and before p, t, k, ', f and s
after oral vowels and before p, t, k, ', f and s
R = [ɾ] after the beginning of a syllable, and [ɽ] at the end of a syllable, or after é, a and ó.
Download an alphabet chart for Kaingang (Excel)
Information compiled by Marcelo Manschein who got the information about pronunciation from the linguist Wilmar da Rocha D'Angelis
Sample text in Kaingang (Kanhgág Tẽtá Fi)
Ũ tẽtá fi vỹ kanhgág jamã ki tỹ pã'i mág nĩ. Vãsỹ fi pi iskóra ki rẽ tĩ, ĩn hẽ kẽmĩ fi tỹ rẽnhrẽj tĩ, fi mỹnh fi mré. Fi pi vẽnh jykre nĩm tĩ. Kar fi pi fi jykre nĩm tĩ gé, nén ũ tỹ hẽn ri ke kỹ. Fi mén kar fi tỹ ver fi mén jykre mĩ tĩ tĩ.
Fi ĩn kẽmĩ fi tỹ nén ũ han-han tĩ, fi krẽ ve ja fi tỹ mũ gé. Ẽpỹ mĩ fi tỹ rẽnhrẽj mũ gé. Fi hẽ vỹ vẽsỹrénh mág tĩ. Fi tỹ nén ũn mẽn sór kỹ, fi tỹ fi mén mỹ kej mũ. Fi krẽ kagan kỹ fi tỹ inh hã vẽnhkagta nón tĩg mũ.
Portuguese version (A mulher Kaingang)
Uma índia é uma grande liderança na aldeia. Antigamente ela não entrava na escola, ela trabalhava só dentro de casa com sua mãe. Ela não dava conselho. E ela também não aconselhava quando acontecia alguma coisa. Depois que ela casou vivia sob o conselho do seu marido.
Ela fazia as coisas dentro de casa, ela também cuidava dos seus filhos. Ela também trabalhava na roça. Era ela quem sofria muito. Quando ela queria alguma coisa, ela falava para o seu marido. Quando seus filhos ficavam doentes, ela mesma ia atrás do remédio.
Source: http://www.portalkaingang.org/index_t_indio_I_1.htm
English translation
An Indian woman has considerable leadership powers in her village [these days]. Formerly she would not go to school. She would only work in the house with her mother. She would have no say, not even when anything extraordinary happened. Once married, she would live under her husband's rule.
She would do the housework and would also take care of his children. She would work in the plantation as well. It was she who would suffer very much. When she needed anything, she would have to ask her husband for it. When her children were ill, it would be up to her to obtain medicine.
English translation by Reinhard F. Hahn
Links
Information about the Kaingang language and people
http://pt.wikipedia.org/wiki/Língua_caingangue
http://www.ethnologue.com/show_language.asp?code=kgp
http://www.sil.org/americas/brasil/INDGRPS/EnglKGRd.htm
http://www.portalkaingang.org
http://www.labeurb.unicamp.br/elb/indigenas/kaingang.htm
Page last modified: 17.11.22
[top]
---

Why not share this page:
If you like this site and find it useful, you can support it by making a donation via PayPal or Patreon, or by contributing in other ways. Omniglot is how I make my living.
Note: all links on this site to Amazon.com
, Amazon.co.uk
and Amazon.fr
are affiliate links. This means I earn a commission if you click on any of them and buy something. So by clicking on these links you can help to support this site.
Get a 30-day Free Trial of Amazon Prime (UK)
If you're looking for home or car insurance in the UK, why not try Policy Expert?
[top]