Careers using languages
A knowledge of one or more foreign languages can be useful in a wide range of careers. For some jobs, such as translating, interpreting and language teaching, language skills are one of the main requirements. For other jobs a combination of languages and other qualifications, knowledge or skills may be needed. For example, people with languages plus IT, law, finance or sales skills are much sought-after.
Specialist language occupations
These include working as a translator, interpreter, language teacher or linguist. For the former three you'll need an in-depth knowledge of one or more foreign languages. Linguists don't necessarily need to speak foreign languages, but such knowledge can be useful for them.
Though the terms interpreting/interpretation and translating/translation are often used interchangeably, these professions are different. There are many differences between the training, skills, and talents needed for each.
Translation
Translators translate written material from one language to another. The kind of material involved may include product manuals, business reports, business correspondence, legal documents, websites, subtitles for films, song lyrics, and literature.
To be a translator you need the ability to write and express yourself very well in the target language, usually your native tongue, and a good knowledge of the source language(s), usually foreign languages. Fluency in the source language(s) is not essential, but you definitely need an excellent understanding of the written version of the source language and the culture of the people who speak it. Specialist knowledge of other subjects, qualifications in translation, and membership of a professional association are also very useful.
Translators make great use of dictionaries, the internet, and other reference materials. Some also use translation memory software, such as TRADOS.
Many translators are self-employed and find clients themselves, and/or work for translation agencies, who find clients and arrange payment. There are also positions for in-house translators in some large organisations.
Translators are usually paid per word in the source language.
Global Translation Institute - online training and certification program for translators
Interpreting
Interpreters work with the spoken word at conferences, meetings, trials, hospitals and anywhere else that interpretation is needed. There are two types of interpreting: simultaneous or conference interpreting and consecutive interpreting.
Simultaneous interpreting usually happens at big conferences and meetings and involves the interpreter sitting in a soundproof booth listening on headphones to delegates giving speeches in a foreign language and at the same time, speaking a translation in their (the interpreter's) native language into a microphone so that delegates who speak that language can understand what's going on. Simultaneous interpreting is a high-pressure, high-stress and usually well-paid job. Simultaneous interpreters often work in teams with each individual interpreting for 15-20 minutes at a time.
Consecutive interpreting involves giving a translation after speakers have spoken, and often translating in both directions between languages. Consecutive interpreting may occur at smaller meetings, discussions between politicians, business people and journalists, and also in courtrooms and hospitals
Interpreters have to be able to interpret both to and from their native language without using dictionaries or other references materials. They also have to be very good at listening and remembering what has been said in one language while simultaneously or consecutively providing a translation in another language. A good knowledge of the subjects under discussion is also essential.
Many interpreters are self-employed and find clients themselves, and/or work for agencies, who find the clients and handle payments. There are also positions for interpreters in some large organisations, such as the United Nations, governments and the military.
Language teaching and training
Language teaching may involve teaching a foreign language to students who share the same native language as you, or teaching your own language to speakers of other languages. Language teachers work in a variety of educational establishments from primary/elementary schools to universities and colleges.
There are many paths into language teaching: some people do a degree in a subject that interests them, then acquire a postgraduate qualification in teaching; some study education at undergraduate level; some start working as a teaching assistant, then later acquire professional teaching qualifications; some do some teaching while undertaking research.
Those teaching a foreign language need a near-native ability in that language, while a knowledge of other languages can be useful when teaching your native language to foreign students, especially to beginners.
Linguistics
Linguistics is the scientific study of language. Linguists study the nature and characteristics of human language. There are many different specializations under the umbrella of linguistics, including:
Theoretical linguistics
Phonetics, the study of the physical sounds of languages, particularly the production and perception of those sounds.
Phonology, the study of how sounds are organized and used in languages to encode meaning.
Morphology, the study of the internal structure of words.
Syntax, the study of the rules that govern the way the words in a sentence come together.
Semantics, the study of meaning.
Pragmatics, the study of the way language can communicate more than is explicitly stated.
Applied linguistics
Language acquisition, the study how we acquire our native language (first language acquisition), and how we learn other languages (second language acquisition).
Psycholinguistics, the study of the connection between thinking and the use of language.
Neurolinguistics, the study of the neural mechanisms involved in the comprehension, production and abstract knowledge of language.
Sociolinguistics, the study of the relationship between language and society.
Historical linguistics, the study of the origin of words.
Anthropological linguistics, the study of the relationship between language and culture.
Discourse analysis, the study of language in the context of conversation.
Linguists work for a range of organizations, including universities and colleges, high tech companies, research institutions, consulting firms, government, and the military.
Here's an illustration of the many overlaps between linguistics and other fields: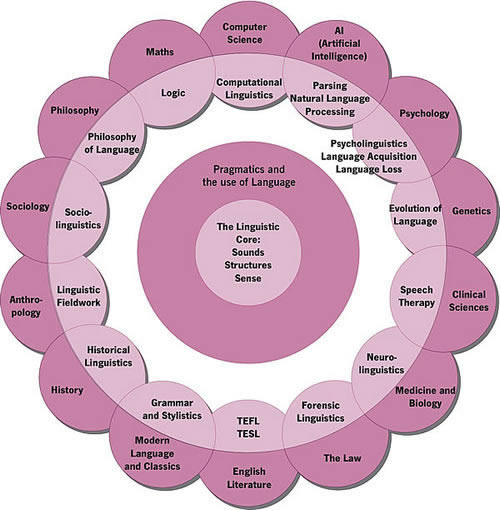 Links to online careers sites and recruitment agencies
A talk by Ellen Jovin about some possible jobs and careers for polyglots.
Other links
Information and advice about language-related careers
http://www.languageswork.org.uk/casestudies/

Careers in Foreign Languages
http://www.samford.edu/schools/artsci/wlc/career.htm
http://www.harding.edu/forlang/Careers.html
http://www.asu.edu/clas/dll/adv/languagecareers.htm
Foreign Language jobs
http://www.unixl.com/dir/education/languages/language_jobs/
Guide to careers in the translation industry
http://www.lingo24.com/resources/career-guide/
Translating and interpreting careers
http://student.brighton.ac.uk/studserv/Careers/sector_translate.htm
What does an interpreter do?
http://world.std.com/~ric/what_is_int.html
A discussion about language translation
http://www.woodrow.org
How to become a translator or interpreter
http://www.wikihow.com/Become-a-Translator
http://www.columbustranslations.co.uk/language-translator/
Frequently Asked Questions About Interpreting
http://www.nysd.uscourts.gov/interp/faqs.htm
CILT, the National Centre for Languages - includes information about becoming a language teacher in the UK: http://www.cilt.org.uk
Information about linguistics and careers in that field
http://www3.ccps.virginia.edu/career_prospects/briefs/K-O/Linguists.shtml
http://www.educationalleadership.com/resources/language-education-linguistics/
Center for Applied Linguistics
http://www.cal.org
Articles about careers and languages
http://www.langjobs.com/career-in-language.php
http://www.langjobs.com/career-enhancement.php
http://www.rosettastone.co.uk/lp/languages-and-careers/
[top]
---

Why not share this page:

If you like this site and find it useful, you can support it by making a donation via PayPal or Patreon, or by contributing in other ways. Omniglot is how I make my living.
Note: all links on this site to Amazon.com
, Amazon.co.uk
and Amazon.fr
are affiliate links. This means I earn a commission if you click on any of them and buy something. So by clicking on these links you can help to support this site.
Get a 30-day Free Trial of Amazon Prime (UK)
If you're looking for home or car insurance in the UK, why not try Policy Expert?
[top]