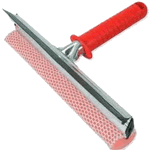 The other day I discovered that the thing I clean my windows with is a squeegee – I was familiar with the name, and knew it had something to do with cleaning, but wasn't sure exactly what a squeegee was. From the sound of the name I guessed that it was a soft, squeezy kind of thing, which doesn't quite match a window cleaning squeegee.
According to Wikipedia:
A squeegee, squilgee or sometimes squimjim, is a tool with a flat, smooth rubber blade, used to remove or control the flow of liquid on a flat surface. It is used for cleaning and in printing.

The original squilgee was a long-handled, wooden-bladed tool fishermen used to scrape fish blood and scales from their boat deck, and to push water off the deck after it had been washed.
According to the Online Etymology Dictionary, the word squeegee come perhaps from the nautical word squeege (to press), a strengthened form of squeeze, which the OED suggests is a strengthened form or quease (to press, squeeze).
Are there any tools of other implements you use that you don't know the names of?